CAM pulls away early for First Round Playoff win over Griswold
October 16th, 2020 by Chris Parks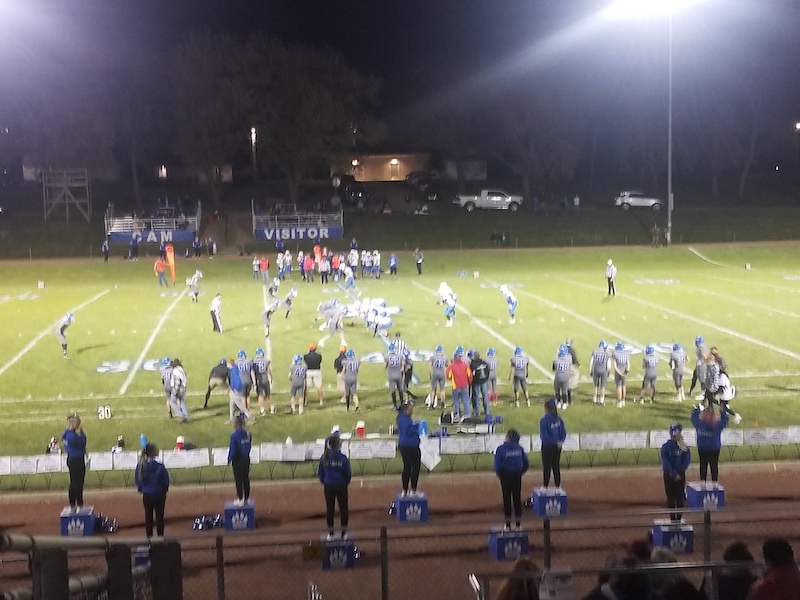 The CAM Cougars scored early and ran away to a 67-18 win over Griswold in the first round of the playoffs on Friday night in Anita. The Cougars scored on their first two offensive possessions of the night on an Ethan Arp to Joe Kauffman 49-yard pass and a Lane Spieker 7 yard run. The Cougars then really blew the game open on the next possession. The Tigers got a great return to the CAM 35 yard line but on the next play Jaxson Bell picked off Lane Mueller and returned it 50 yards for a touchdown to put the Cougars up 18-0.
CAM built the lead to 40-0 by the end of the first quarter and led 59-0 by halftime. Lane Spieker was the offensive highlight again for the Cougars with 142 yards on the ground and 5 touchdowns. Spieker also worked in at quarterback for a few series and went 5-5 for 113 yards and 2 touchdowns. The Cougars finished the night with 425 yards of offense.
Griswold played hard until the end of the game and were able to punch in a few late scores. Lane Mueller picked up a 13 yard touchdown run and had a 15 yard touchdown catch from Kamron Brownlee for the last score of the night.
CAM improves to 6-0 and will get a rematch against Stanton-Essex next Friday night. The Cougars beat the Vikings 34-20 in the last game of the regular season.
Griswold finishes the season 0-6.
Listen to a full postgame interview with Lane Spieker and Head Coach Barry Bower below.
Podcast: Play in new window | Download (2.4MB)