Contests/Promotions
BRANSON TRIP JUNE 14TH-17TH, 2022
KJAN is going to Branson and we'd love to have you come along! We will be heading to Branson on Tuesday, June 14th and returning on Friday, June 17th. We'll enjoy a number of shows including: Hamner's Unbelievable Variety Show; Smoke on the Mountain Show; Waylon, Willie and the Good Ol' Boys and the Duttons Show. We'll enjoy great food at Paradise Grill, Black Oak Grill, SS Dockside Cafe & Pub, Sirloin Stockade and Mel's Hard Luck Diner, with all meals included. There will also be a side trip to Carthage for a tour of the Precious Moments Chapel and to Springfield for a Fantastic Caverns Tram Tour along with some time for shopping.
We'll be staying at AmericInn by Wyndham, formerly Camden Hotel & Conference Center which includes a free deluxe breakfast and free ice cream social each night. Deluxe motor coach transportation is also included in the price.
The rates are $750 for a single, $550/ person double, $500/person triple and $475/person quad. Space is limited, so sign up today. Registration deadline is April 15th, 2022. Please call 243-3920 or 800-283-5526 if you have any questions or to register. Remember, full payment (cash, check or credit card) is required at time of reservation.
No refunds are possible after April 15th, 2022, but trip insurance is available. Call Becker Travel at 712-243-5896 for details and pricing.
Printable itinerary —–> BRANSON 2022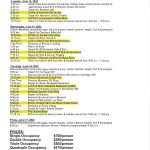 ———————————————————————————–
11TH ANNUAL MERLYN CHRISTENSEN MEMORIAL GOLF TOURNAMENT 2021