About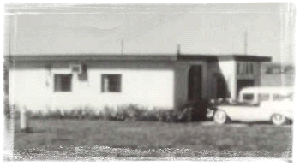 KJAN first went on the air in September of 1950 and was owned by George Basil Anderson. In the early days, KJAN was a daytime station, which means it was only authorized to operate from sunrise to sunset. At that time, the station was programmed primarily with religious content. The staff in those early days included five employees.

Frank Miller of Atlantic joined the staff in 1951. This was a period of great change and growth for KJAN. E.G. "Red" Faust and Bob Einhaus joined the staff in 1955. The three of them formed the Nishna Valley Broadcasting Company, which owned and operated KJAN for 30 years. Miller served as General Manager, Faust as Sales Manager, and Einhaus as News and Program Director.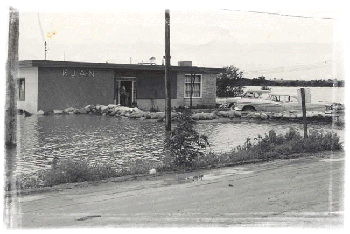 Changes during this period included the addition of a new frequency at 103.7 FM. The facilities, which are located on the north edge of Atlantic, were remodeled and enlarged a number of times to accommodate more equipment and a larger staff. The tower was enlarged and the FM, which began at 27,000 watts, was increased to 100,000 watts. Additional equipment was purchased to continue the station's commitment to being a local news and sports leader in southwest Iowa.
The retirement of Miller, Faust, and Einhaus in 1985, lead to the sale of Nishna Valley Broadcasting to a company called Valley Broadcasting. Former Atlantic resident John Carl and Former Sales manager Bob Bebensee headed Valley Broadcasting. They sold KJAN AM/FM to an Omaha company in 1987. KJAN AM was then purchased from the Omaha company by Wireless Communications Corporation in 1988.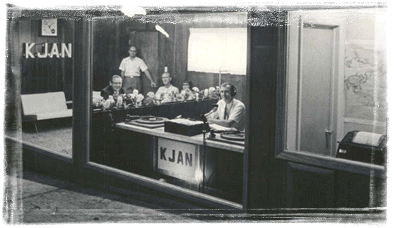 Wireless Communications Corporation is an Atlantic-based group of investors, whose main interest is the operation of KJAN. Current investors include J.C. Van Ginkel, Jim Field and Rod Christensen.
No matter how many changes seemed to take place since 1950, today, KJAN has the same focus that it had when it was founded. We take a tremendous amount of pride in the trust and respect that has been given us by our listeners. KJAN continues to be the station that people turn to for LOCAL news, sports, weather, and farm information. We are committed to being there for our listeners. Through floods, ice storms, fires,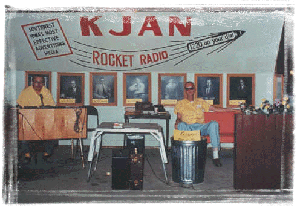 and tornadoes, KJAN has been there to bring the latest information to the area in a quick, and accurate manner. Sports coverage continues to focus on the achievements of area high school athletes, with a mix of pro and college favorites. Weather coverage is the most complete in the area. We are the National Weather Service cooperative observer for Atlantic, keeping all the weather records, and our series of stringers in the area makes us "The Nishna Valley's Official Weather Station."
On January 17, 2012, KJAN began broadcasting on FM 101.1, using an FM translator to better serve our local listeners.
KJAN, "The Station Where Your Friends Are," is a proud part of the area's past and committed to being a strong part of southwest Iowa's future!