WEEK OF OCTOBER 23, 2023
October 23rd, 2023 by Jim Field
FOR SALE: Brand new fireplace…still in box. Also an add-on fireplace (for furnace or wood burner). Asking $1400 each. 3 skid loaders…50hp walk behind Bobcat with tracks; 90 hp Case with tracks; 55 hp New Holland with good tires. Asking $16,000 on skid loaders. Aslo an Ultra-light plane w/parachute. Asking $14,000. Call 712-355-1566
FOR SALE: 21″ Pull & Pro mower. 7hp self-propelled with bagger. Located in Atlantic. Asking $50 obo. Call 712-249-2591
FOR SALE:  Re-homing two kittens, very playful.  712-579-1981.
FOR SALE: 21 inch red lawn mower. Runs good and in good shape. Just changed the oil the sharpened the blades. Asking $20. If interested come to 304 west 13th Street in Atlantic.
FOR SALE: Two vacuum sweepers both in good condition and work very well. Asking $10 for each of them. If interested come to 304 west 13th Street in Atlantic.
WANTED: A small cart or wagon to pull behind a scooter. A small pickup to buy or trade for a 2002 Ford Explorer and a riding lawn mower in good working order. Call 712-243-4016
FOR SALE: Double well stainless steel kitchen sink with faucet. Asking $20. Call 712-304-4998 in Hamlin
WANTED: Good, used work vehicle. Doesn't have to be fancy, just mechanically sound. Call or text 712-249-4848
FOR SALE: 2011 Toyota Camry. Very nice, clean, well taken care of. Asking $13,000 obo. Call 515-523-1350 for more information.
FOR SALE:  Fann Pharmacy Soda Fountain.  Been in storage.  Condition unknown.  Price Negotiable.  Pick up only in Atlantic.  Call 515-865-2533 for more details.
WANTED: Looking for a free dog. Male or female, younger than 1 year old. prefer a larger dog, like a Lab. Call 402-305-9053
FOR SALE:  Orange and Blue green river coffee table for sale.  First $500.  Call Tim at 712-249-9242.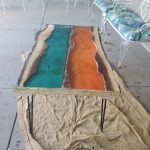 FOR SALE:  3 matching potholders for plants, 1 1'2′ long by 1 1/2′ wide, $10 for the three. 402-689-5954.
FOR SALE:   AKC Rottweiler puppies. Both parents on site. Ready for their new home October 26th. Call or text 712-249-2692 for more info.
FREE: I found 3 kittens while I was mowing. Free to good home(s). 712-748-3676.
FOR SALE:  Amana 22 cubic foot Side by Side Freezer/refrigerator, wood trim, Fill the need for extra space , cool it.  Asking $250, 243-4123 or leave message.
FOR SALE:  a Pet Gear heavy duty 3 step dog assistance steps for larger dogs. Used maybe 2 times. $70.00. Call or text 712-249-5675.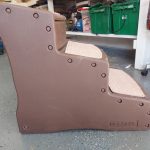 FOR SALE:  Large older chest freezer. Works great. If no interest, going to scrap it. Will help load. No stairs. Best offer. Audubon area.  309-368-4393.