WEEK OF OCTOBER 16, 2023
October 16th, 2023 by Jim Field
FOR SALE: 50 Gallon Westinghouse Water heater still in the box. Asking $800. Call 712-355-1566
WANTED: Looking for someone to help install a water softener in Council Bluffs. 712-355-1566.
YARD SALE:  Indoor and Outdoor at 1201 Maple St., Atlantic.  Friday, October 20. 11:00-5:00.  Winter attire, boots and shoes, Christmas decor, fabric steamer, dressers, tires, etc.
WANTED:  a riding lawn mower in good shape.  Also, would trade a 2022 Ford Explorer for a pick-up.  Call 712-243-4016.
FOR SALE: Two bench seats that sit outside made of cast irons. Asking $50 for both in the Griswold area. 402-689-5954
FOR SALE: Sound Bar 38in. Can be delivered. Asking $100 or best offer. Call 712-254-0217.
FOR SALE:  Allis-Chalmers tractor with all the equipment.  John Deere manure spreader for $500.  Also, looking for a dirt trencher.  Call 712-355-1566 in Council Bluffs.
FOR SALE: New, in-the-box, ready to assemble, live animal trap w/a 12″ opening (good for raccoons). $20. Call 712-789-1036.  SOLD!
FOR SALE:  21″ Murray push mower, 3.5 HP, blade has been sharpened and oil changed.  Asking $20.  Is located at 304 West 13th Street in Atlantic…just come to the west door.
FOR SALE:  Brand new in the box Emerson Motor, serial number 3A55NXWA-5214 $25.  Also selling 5 folding lawn chairs and foldable table 2×2 for $25.  In Griswold, call 712-406-6455.
FREE:  to a good home, Cats …1 orange kitten 5 months old.  All are fixed and up to date on shots.  Need homes for 3 reasons…. They are trying to sell the house that I live in and I still haven't found a place to live.  Have too many as I rescued some and when my mom passed I have hers and some don't get along with others.  Call 531-530-9492.
FOR SALE:  Panasonic Upright Sweeper and Panasonic Upright Hoover, $10 each. If interested, stop by 304 W 13th in Atlantic. Ring the doorbell on the West back door.
FOR SALE:  Whirlpool microwave oven.  Three yrs old in good condition.  Asking $15.  Call or text Kurt at 712 249 0186.  Please leave a message.  SOLD!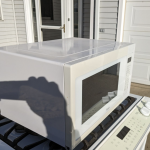 FOR SALE:  Purebred German Shorthair Pointer puppies, ready to go on October 26, first round shots completed and wormed.  2 females and 6 males.  Mom and dad on site, both great hunters. Price has been reduced from $400 down to $250.  For more information or individual photos, please contact Lucas at 712-621-7909.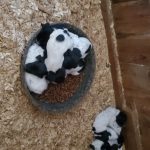 FOR SALE:  Frigidaire Gas range.  Has warming drawer and convection feature.  Good condition.  Asking $75.  Call or text Kurt at 712-249-0186.  Please leave a message.  SOLD!
FOR SALE:  Torch w/cutting tips, $1,200; Saddle w/saddle bags, $200. Call 712-249-8225.
FOR SALE:  Echo 16 inch bar electric chainsaw.  One year old with battery and charger, $175.  Call Tim at 712-249-9242.
FREE TO A GOOD HOME:   Three kittens.  One black & white and 2 Black one.  Litter box trained.  Call (712)563-2030.
FOR SALE:  AgriFab 38″ Lawn Sweeper.  $185 Cash.  Call 712-243-9782.  If no answer, please leave message.
FOR SALE:  Sonic mobility scooter and ramp, +2 extra batteries. $250.  Atlantic 712-204-3341. SOLD
GARAGE SALE:  423 Elm Street in Atlantic.  Thursday, October 19, Friday, October 20, Saturday, October 21 from 9:00 am -5:00 pm.
FOR SALE:  GE gas stove for sale, only 2 years old functions very well.  No scratches or dents just needs cleaned.  $500.00 or best offer.  Call or text Eric at 712-579-8493.
FOR SALE:  4 burner Blackstone griddle. Works great. Asking $225.00.  Call 712-249-2905 if no answer leave a message.
TO GIVEAWAY: Several household items (clothes, etc.) at 107 Cedar Street on Wednesday from 10-until 3-p.m. Call 250-1769.
FOR SALE: 2 plow attachments for a John Deere Tractor. $200. Call 402-689-5954 (Griswold).
FOR SALE:  Thanksgiving is  just a little over a month away.  Time to order your farm fresh holiday turkey for dinner.  We have processing dates the week of the 13th of November and 20th of November.  A $25.00 non refundable deposit is required for each turkey ordered.  Email your order to produce4u@fmctc.com or for more information call Beth  402-659-2752 or Roger 712-355-2034.
FOR SALE:  A well made engine stand on rolling castors. Adaptable to any engine, It has had a complete 327 engine on it. Open picture to view the 327 on the stand. $100.00.  Used air bubble with gauge and hose, all in working order. $45.00.  Dolmar 420 chain saw with a carrying  case and extra's. Runs, but does not have a chain or bar.  $25.00…Call 417-876-7103 Kimballton area.