Report finds opinions on water quality similar among many Iowans
September 25th, 2023 by Ric Hanson
(Radio Iowa) – A report on state water quality by an Iowa State University Extension "Think Tank" finds opinions don't diverge very much on some of the issues. The director of the Conservation Learning Group, Jacqueline Comito, says they were trying to take the temperature of water quality issues. "And see what was going on in terms of water. Have made any headway in terms of changing people's opinions or behavior?," she says. Comito had done some surveys of college students on the issue 12 years ago, but this report includes the first comprehensive survey of college student.
"And I would say among college students, they have more knowledge about water issues in the state than they did 12 years ago. Maybe it's not as much as we would like them to have. But it's still, we saw some difference there," Comito says. Comito used her expertise as an anthropology professor to dig into the responses of the college students. "When we look at their survey data, we see that there is some concern, and there is understanding, there's just a different idea of who who maybe should take care of the problem," Comito says. "But among regular Iowans, I think the answer is that things haven't changed much over the last 12 to 20 years." Agricultural issues were cited by most people as the biggest water quality concern. Comito says though, it wasn't a case of blaming farmers for everything.
"What came out in the more qualitative work, the listening sessions, is they understand the complexity of farmer decision making and everything that goes into it," Comito says. "So I think the urban people are very aware of that, that it's not so simple just to look at them and say, You got to change what you're doing." Comito says that's a key point in the discussion. "So I think that was one of the big findings in this, is that urban residents and farm residents might find that they have more in common than they think," she says. Comito says the issue of finding a way to fund the things that can improve water quality.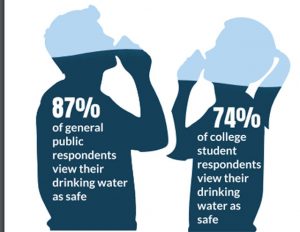 "I would say what it boils down to is that we do know a lot of the solutions, right? We do know some of the things that we can do, both in our urban areas, landscapes and our agricultural landscapes to improve water quality," she says. "What we can agree upon is one, whose responsibility is it to do those things? And the second thing we can't really agree upon is how do we fund this?" Comito says the report should help the D-N-R as they are trying to finalize their non-point source management plan. She hopes it will make that plan more accessible so that the everyday average Iowan can read it. Comito says it should also give insight to those doing outreach and education, so they know what people are thinking and feeling.