WEEK OF AUGUST 14, 2023
August 14th, 2023 by Jim Field
FOR SALE:  Pickup Box trailer, $375, in Lewis.  Call 769-2338.
FOR SALE: Very clean 18′ Rockwood camper. Sleeps 6. Has tandem axles/wheels. Smoke free/pet free. Pulled very few miles. Asking $5000.  Located in Atlantic, call 712-249-3231
FOR SALE:  Lenox "Poppies on Blue" Chinastone, used 11 dinner and 9 salad plates, also very good condition 10 cereal/soup bowls, 12 mugs, then 1 each 8" round vegetable bowl, 14" oval serving platter, open sauce boat, 6" soufflé bowl, cheese trivet, and bread & butter plate.  Asking $200.  Call or text 712-249-3976 if interested.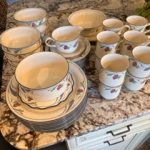 FOR SALE:  John Deere L110 lawn tractor, 42 " deck, automatic, only 325 hours, very nice condition. $800.   SOLD!   Also: 4 Goodyear wrangler tires P265/65/R18, good tread edges wore a little, $150 for the set.  712-250-1005.
FOR SALE: Carlson Construction compressor and a Delta 10″ table saw. Asking $75 for each. Call 712-254-6036
FOR SALE:  16 ft. Allumacraft jon boat.  No trailer or motor.  It's a little dinged up but still floats.  Located between Anita and Adair.  $125.00.  Call or text 712-249-6700.
WANTED:  Looking for a dog groomer to bathe and cut my dog's hair. I am willing to travel to Anita, Adair, Audubon or other towns close to Atlantic. Also looking for a small pickup to buy or trade for a 2002 Ford Explorer. Needing a wagon or cart to pull behind scooter and a small riding lawn mower in good working order. Call 712-243-4016
FOR SALE: 1) Black leather swivel office chair $10. 2) White Whirlpool microwave $10. 3) Bissell upright vacuum $10. 4) Panasonic upright vacuum $10. Call 712-304-4550 or stop by the west back door at 304 W 13th Street and ring the doorbell.
FOR SALE: 2×8 tin shed…brand new. $120. Also have 2 double carports…brand new for $100 each. 2000 custom Chevy LS pickup. 4×4 with new transmission- has 50 miles on new trannie and 1 year warranty. All decked out with scoops and more. Asking $8000. Call 712-355-1566
FOR SALE: 2 antique 4 drawer dressers. 43″ long, 33″ high and 22″ deep. Call for price and details 712-243-7706 in Atlantic.
FREE:  To give away used frost free refrigerator.  Rusty on the outside from being in a damp basement, but the inside is not.  Runs great but has a couple defects.  Would make a good spare fridge.  Easy access from walkout basement.  Call 712-304-5375.  GONE!