WEEK OF JULY 17, 2023
July 17th, 2023 by Jim Field
FOR SALE:  4 Goodyear Wrangler Workhorse HT 275/65R18.  New Takeoffs.  $800.00.  Call 712-254-1308.
FOR SALE:  Motorcycles…175cc to 1100cc, including dirt bikes, street bikes, scooters, collectables and a Can Am Spyder. Also have a pickup and a Chrysler LeBaron convertible for sale. Call for information 712-355-1566.
FOR SALE: A 2-wheel sprayer w/a 25-lb. tank. $250. Call (712)-249-3730.
FOR SALE:  2010 Wilson grain trailer, 43 ft.  Long 78 inch high side 102″ wide.  Air ride, new roll tarp 8 aluminum rims, tires 11R225.  Call Randy 712-250-0075.
FOR SALE:  Metal swing set with attached slide, two swings, chin-up bar and small trampoline.  Blue.  $75 OBO.  In Adair, call 641-740-1079 if interested.
FOR SALE:  John Deere L110 lawn tractor, automatic, 42″ deck, very nice condition, only 325 hours.  $950.  712-250-1005.
WANTED: A wagon or cart to pull behind a scooter. Need it to carry groceries. Also looking for a small riding lawn mower. Would like a Snapper brand, but any other brand would work as long as it runs good.  Please call 712-243-4016
FOR SALE:  4 fishing rods/reels for $10 each.  Located in the Griswold area.  Call 712-406-6455.
FOR SALE:  Used Left-handed golf clubs and bag.  $125.00.  Call. 712-249-2847.
FOR SALE:  2 handmade children's wooden benches. $25 each. Children's kitchen set (sink & stove)-handmade of wood, asking $25 for the set. Also 2 cradles-one is handmade of wood and includes a baby doll, blankets and clothes…the other cradle is white wicker. Asking $25 each. 712-249-1825 in Atlantic.
FOR SALE:  3.5 hp Briggs & Stratton Hydro Pump. Has 1.5″ discharge and screen to keep debris out. Comes with 2- 1.5″ twenty foot flex tubes. Also have 50′ of 1″ old hay rope. Call 712-243-2288
FOR SALE:  Brand new in the crate Westinghouse natural gas water heater. Paid $2400…will sell for $800. Also looking for a gas operated golf cart and a small forklift. Call 712-355-1566
GARAGE SALE:  Saturday, 7/22 from 10:00 am – 3:00 pm and Sunday, 7/23 from 10:00 am – 2:00 pm at 101 East 13th St. in Atlantic.   Booth's from the 70's.  Dishes and lots of stuff.  Call 249-7173 for a sneak peek.
FOR SALE:  4 brand new tires.  Size 225/65/R17.  Bought new for $450 but had to junk car because of a bad motor.  Will let them go for $300.  Call Bill at (402)651-3218.
FREE TO A GOOD HOME:  GRAY TIGER male.. neutered  and 1 year and 3 months old.  Sandy colored male around 2-3 yrs old.  Kittens that are around 3 months old. orange male and light gray striped female and a tortoise shell female.  HERE'S A PIC OF THE GRAY TIGER MALE, don't have one of the kittens yet.   I really need homes for these and a few more I have a few older ones too but not to old to play.  Call 531-530-9492.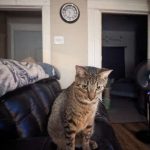 FOR SALE:  Female Jackrat puppy ready for a new home!  Has 1st puppy shot, wormed, & weaned.  Father is a purebred Jack Russell Terrier.  Mother is a purebred Rat Terrier.  She loves to play and is great around kids!  Call or text: 712-589-3503.
FOR SALE:  L-shaped computer desk, like new, and computer chair, like new.  Asking for $50 each.  Located in Atlantic, call 712-249-1825.
FREE:  Firewood. Call for more details. 712-784-3894 in Walnut. CLAIMED!
LOST: Black Husky with white chest and red collar named Sheeba has been missing since July 16th at 4:00 p.m.  Lost from a home just SW of Wiota.  Please call 712-249-1772 if found.
FOR SALE:  I do have several mirrors for sale.  712-249-7173.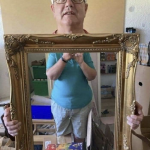 FREE: Creosote poles.  9 are 9″x 6′.  3 are 9″x 18′.  Call 712-243-2288. CLAIMED!
FREE:  We're in the process of tearing down a house that has a good gas water heater that was working when we shut gas off.  Free to anyone wanting to remove.  Here in Atlantic.  Call 713-208-5698.
FOR SALE:  Shih Tzu puppies.  Reduced to $250 each.  2 sets of shots.  9 weeks old.  In Atlantic.  402-590-6838.  SOLD!