WEEK OF APRIL 17, 2023
April 17th, 2023 by Lori Murphy
AUCTION! Saturday, April 22 beginning at 11am. Located at 8 East 9th Street in Atlantic. A little bit of everything!
GARAGE SALE: Crystal items, woodworking tools and more…2104 Chestnut Street in Atlantic. Friday and Saturday 8am-4pm. Come see what we have!
GARAGE SALE:  "The shed and yard are full. If you need it, we may have it. If you've never seen it come and look! Antiques, household, garden items, DIY projects, fishing, camping, pet supplies, horse tack, and so much more!" Friday 8-5: Saturday 8-4. 2024 Highway 71 Tennville.
FOR SALE: Canning jars…2 and a half dozen quart jars with rings…asking $8 per dozen. Also new in the box, 12 half pint jars with rings and flats for $10. Call 712-779-3610.
FOR SALE: 16′ livestock trailer with divider and sliding door. $3,000.  Call 712-249-9838.
FOR SALE: 12 cup Cuisinart Coffeemaker. Asking $60.  Call 712-254-3193.
FOR SALE:  Full-face helmet with visor, like new, and 2 pair of goggles, one clear and one amber-tint with bag.  Asking $150 for all or will sell separately.  Call 712-254-6167 for more information.  SOLD!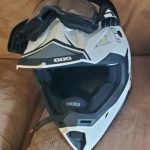 FOR SALE:  2012 Cub Cadet Z-Force 60" mower. Runs and cuts good. 300 hours. Asking $2,750. Also have a newer Kenmore washing machine and LB White heater. $100 for the washing machine and $150 for the heater. 712-304-5331. Located near Atlantic
FOR SALE:  2009 26 ft. Puma RV camper. Has automatic jack on front. New awning. VERY well taken care of. Comes with lots of extra inside items including dishes. Price has been reduced to $14,000 obo. Call 712-249-1825. Located in Atlantic
FOR SALE:  Kenmore electric dryer. Works great. Electric smokeless grill…asking $50 each. Call 712-249-2622
FOR SALE:  Ultra -lite 2 passenger trike plane with parachute…asking $16,000. Custom 4×4 Chevy Silverado extended cab. New transmisson and brakes…asking $9,000. Chrysler Lebaron convertible with 100,000 miles…asking $2,000. 712-355-1566
FOR SALE:  Several rhubarb plants and trees (both small and large). Firewood for camping or fire-pits. Call 712-249-5160.
WANTED:  Grinder/Mixer, Small forklift, and a 4×4 ATV/UTV off-road vehicle.  Call 712-355-1566.
FOR SALE:  2019 John Deere X580 riding mower. 54″ deck, power steering, power lift, grill guard. Excellent condition with only 379 hrs. Asking $6,200 OBO. Call 712-304-0924
FOR SALE:  2 walnut end tables.  Great end tables for your couch or recliner or by your bed.  Both are hand made with attention to detail.  $350 for both.  Call Tim at 712-249-9242.  Please Leave voicemail if no one answers.
FOR SALE: Brand new in the box Danby countertop dishwasher. Looking to get what they paid for it $300 OBO. Call 712-249-1825.
FOR SALE: 3 large bookcases…$30 each. Also a Lightening McQueen toddler bed for $75. Call 712-789-9385
FOR SALE:  Small engine equipment including tillers, sidewalk sweepers and snowblowers for $20 and up.  Call 712-355-1566.
FOR SALE:  Heavy duty tomato cages, asking $3 each.  Call 712-249-3730.
FOR SALE: Troy Built 42″ riding mower with bagger. Good mower! Price reduced to $675.00 cash. Located in Atlantic call 712-249-6835. SOLD!
FOR SALE: 2004 Ford Free Star van. Low miles, new tires. Call to discuss price…712-243-6253
FOR SALE: Gravely zero turn home/commercial mower with owner's manual. Has new solenoid and switch. Runs great! Very well taken care of. Has 635.1 hrs on it (over 1500 hrs is high for a zero turn) 45 in deck. Husband passed away and I don't like using the zero turn. Asking $2,200.  Bought at Ed's Lawn Equipment in Atlantic in 2020…used only 1 1/2 seasons. Call 515-523-1350. Located in Stuart.