WEEK OF APRIL 10, 2023
April 10th, 2023 by Jim Field
FOR SALE: Antique spring wagon seat. Made of Oak and has been refinished and varnished. Call for more information and price at 641-745-7548. Located in Greenfield
FOR SALE:  Yamasa Slot Machine for Sale.  Instructions inside.  Works fine.  Does not take coins.  Comes with keys and lots of tokens.  $300.00.  Call 712-249-5206.  SOLD!
FOR SALE:  Trailer, KNOP, black in color, approx. 5 x 8, wooden floor, tailgate that raises and lowers, perfect for moving brush and/or golf carts or mowers or moving to a different home. It has always been kept inside and is in excellent condition. $1,000 or best offer.  Call 712-249-1994 and leave a message if no answer.
WANTED:  a small forklift.  Call 712-355-1566.
FOR SALE:  New Holland skid loader, 55 HP, turbo diesel, super boom, asking $16,000.  Also, a CAN-AM motorcycle with only 900 miles for $11,000.  Call 712-355-1566 in Council Bluffs.
FOR SALE: Gravely zero turn home/commercial mower with owner's manual. Has new solenoid and switch. Runs great! Very well taken care of. Has 635.1 hrs on it (over 1500 hrs is high for a zero turn) 45 in deck. Husband passed away and I don't like using the zero turn. Asking $2,200.  Bought at Ed's Lawn Equipment in Atlantic in 2020…used only 1 1/2 seasons. Call 515-523-1350. Located in Stuart.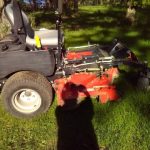 FREE: 3 wood fence panels. Cleaning up the yard and just want them gone. Call 712-789-9385. GONE!
FOR SALE: One ton folding shop crane…new in box. Never used. Asking $250. Call Jim at 712-250-1769.
FOR SALE: A small couch for $25 and a recliner for $5. Call 712-249-3282.
WANTED:  Looking for yards to mow in Atlantic. Please call or text Travis (712)249-2941. NO MORE OPENINGS
WANTED:  Canning jars.  Call 712-363-4286.
FOR SALE:  Approximately 15 rhubarb plants. Asking $3 each. Also have Peony bushes for sale. Asking $10 obo. Call 712-249-5160.
WANTED:  Local family needs helping moving ASAP.  Any help would be very greatly appreciated! Call 712-249-5160.
WANTED: Small cart or wagon to pull behind a 4-wheel scooter. Call 712-243-4016.
FOR SALE: Side by side refrigerator, light yellow color. Clean and works great. Asking $75.00. Call 712-249-6880.
FOR SALE:  Elliptical machine and a Treadmill…bought new in 2016, barely used. Also 2 ten speed bikes and a snow plow for a riding mower. Call for pricing and questions…712-250-1255.
WANTED:  a weed sprayer.  Also, looking for a forklift and a 4 X 4 ATV.  Class 712-355-1566.
FOR SALE: 2 row John Deere planter. Perfect for planting sweet corn. Price reduced to $360 obo. 4- 20 ft 6×6 cedar wood beams. Cost $360 new…asking $1500 for all 4. All shapes and sizes of Clip Stone for support walls, asking 50 cents and up. 712-355-1566.
TRADE:  A CAN-AM with 900 miles, willing to trade for an ATV 4 x 4.  Call 712-355-1566.
FOR SALE:  A portable cement cutter (with $140 blade) for $150.  Also, large, galvanized creep feeder with 8 bays for $650.  Call 712-355-1566.
FOR SALE: 3 tall, wooden bookshelves. $30 each. Call 712-789-9385.
FOR SALE: A large load of split wood ready for camp fire use. Will deliver. To find out more, call 712-363-4286.
FOR SALE: 2004 FORD Freestyle van (silver). Low miles. Asking $3,500. Call 712-243-6253.
WANTED:  Looking for parts for a John Deere 2 bottom plow, call 712-304-4851.