WEEK OF MARCH 27, 2023
March 27th, 2023 by Jim Field
FOR SALE: Horizontal wood siding…3- 9ft primed sheets, 3- 8ft un-primed sheets. $30 each. Suncast heavy duty Stowaway shed. Brand new in box. Measures 4′ 4″ x 3′ tall and 5′ long. Doors measure 64 1/2″ wide. Asking $110. Carpenter supplies, including doors and windows…inside and outside doors of all shapes and sizes. Windows include portal windows, octagon and other shapes and sizes. Asking $5 and up. 712-355-1566 in Council Bluffs
FOR SALE:  A utility pump, 12 volt/110 watt, 50 PSI, 300 GPH flow rate, self-priming, 4,500 RPM, like new.  Asking $25.  Call 712-209-2913 in the Griswold area.
FOR SALE:  A Cedar table.  This would make a Good coffee table.  Made of 22in x 20in cedar.  Interested? Call Tim at 712 249 9242 leave message if I don't answer.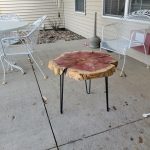 FOR SALE:  I have a washer for sale, $250.00 in Kimballton.  Email:  psebeniecher@yahoo.com.
FOR SALE: A tall aluminum light pole with three lights on it…asking $400. Also CAT road grader and a CAT ground packer…$250 and up. John Deere manure spreader for $500. Call 712-355-1566
FOR SALE:  3 x 3 x 8 square bales of grass hay.  Baled at 10-15% moisture content.  $75.00 per bale.  I am located near Hamlin Iowa.  Call 712-304-0178.
FOR SALE:  Cowboy Boots, NEW: Justin Teal/Black size 6 1/2, from smoke free, pet free home. Paid $125, asking $90.  Worn once or twice: Ariat-Brown size 6 1/2 $50.  Ariat Cruiser shoes size 6 1/2 $20, barely worn.  Pick up Griswold or Atlantic.  712-789-0479.
FOR SALE:  Ultralite 2-passenger trike airplane with parachute for $16,000.  Several motorcycles from 175cc to 1100cc including cruisers, dirt bikes, scooters and a CAN-AM for $700 and up.  A Chrysler LeBaron convertible with 100,000 miles and front wheel drive for $2,000 OBO or would consider trade.  Call 712-355-1566.
FOR SALE:  5 Thomas Kincaid plates, asking $5 each.  Call 712-789-2908.
WANTED: Looking for someone to scrape and paint our one story house. Would like references from previous jobs done. Call 712-243-3238
TO GIVEAWAY: A Yamaha Upright Piano that was tuned-up in December, 2022. E-mail thomaswatson7661@gmail.com.
FOR SALE: Granite Stone Diamond electric smokeless grill.  Less than one year old. Used very little.  Works well.  Asking $30. Call 712-243-4507 SOLD
WANTED:  Handy man with references to complete minor repairs on a rental property located in Atlantic.  Home will be listed for sale soon.  Call 608-302-7194.
FOR SALE:  box type (Knop) golf cart trailer and/or lawnmower trailer. Excellent condition, approximately 5×8, drop down tail gate, wooden floor in perfect condition. Real clean, asking $1,000. Call or text 712-249-1994.
FOR SALE:  Lots of vintage and other items.  Globe, hymnal, chairs, etc.  Sale before the sale.  Call for time to see.  712-249-7173.
FOR SALE: 2 full-face helmets with visors, like new, and 2 pair of goggles, one clear and one amber-tint with bag.  Asking $250 for all or will sell separately.  Call 712-254-6167 for more information.
FOR SALE:  Vintage items, including bowls and an air pot.  Call for details 712-249-7173.
WANTED:  I have a very bad back and I am looking for an inversion table. I can't spend very much. Please text 712-789-0685.
FOR SALE: Total Gym…brand new. Asking $199. Call 712-249-3416.  SOLD!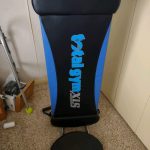 FOR SALE:  2 sections of Rope: 1 is 88 feet and another is 26 feet.  $60. Takes both.  712-249-7173.
FOR SALE: LA-Z-BOY recliner/rocker chair.  Perfect condition.  $280.00 cash.  In Atlantic 712-243-3002.
FOR SALE:  Selling a Seiko clock that we bought at SAMS Club several years ago.  Still keeps perfect time and plays music.  $25.00. SOLD! Also selling a Snuggle Pup with beating heart. Used a very short time. $8.00.  712-249-5675.