WEEK OF JANUARY 23, 2023
January 23rd, 2023 by Jim Field
FOR SALE:  bloodhound puppies.  Weaned, First shot, wormed, and ready to go to new home.  $350.  Call or text: 712-589-3503.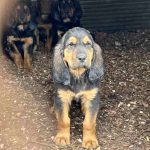 FOR SALE:  A hood for a 1957 Chevy, fully restored with all chrome for $300.  A large calf creep feeder for $600.  Carpenter supplies, including many doors and windows of all sizes, for $5 and up.  Call 712-355-1566.
FOR SALE:  Amana heavy duty electric dryer. Asking $100. Call 712-254-0837
TO GIVE AWAY (preferably to a local museum/genealogical center) – Centennial Editions of the Atlantic News Telegraph dating back to 1919, including 1944, 1957, '58' and 1968 (to name just a few). Please call 402-680-5265.
FOR SALE:  Dresser for $50. 68″ L X 18″ D X 30 1/2″ HIGH.  530-531-9492.
FREE:  wardrobe storage cabinet-  2 drawers missing– heavy.  FREE:  need a good home for Toby a grey kitty..neutered….and still have female gray kitty that's declawed and spayed and orange kitty named Jojo that is neutered but has claws.  Black and white male that is neutered also.  All in Atlantic.  530-531-9492.
WANTED:  A small forklift, a mower (bush hog) that attaches to a skid loader, grinder/mixer.  Call 712-355-1566.