WEEK OF DECEMBER 19, 2022
December 19th, 2022 by Jim Field
FREE: Several hundred cancelled stamps. Looking for an organization or someone who would like them before January 6 (when they will be thrown away). Call 712-243-4165 TAKEN!

FOR SALE: Polk soundbar. Used for one month. 38″ long. Selling for $100obo. Call 712-254-0217
FOR SALE:  Chevy pick-up short box bed liner for $20.  EZ-Flo fertilizer/seeder for $35.  John Deere 2-row planter for $450.  Call 712-355-1566.
WANTED:  To rent a 2 or 3 Bedroom House with a garage in or close to Atlantic for a couple….no kids.  Call 712-828–5885 leave a message if no answer as I work at home during the day.
FREE TO GOOD HOMES:  I need homes badly for these kitties please.  The orange kitty is JoJo.  He is neutered and had his shots too.  Max is the black and white one. He needs a home bad to as he has been living outside and is always in my window.  He is friendly with me and follows me everywhere when I'm outside.  It hurts to see him out there in the cold.  Toby is the gray one sitting on the scratching post.  He loves to lay on your lap.  Missy is only female.  She is spayed and front declawed.  She really needs a home badly.  She doesn't care for other kitties because she has always been bullied by her half-siblings so she is scared.  She loves to be petted and will lay on your lap when she gets used to you.  All of them are up to date on shots. All are in Atlantic.  Also, I have a female kitty about ready to have kittens.  She is outside and she won't let you pet her.  I have been feeding her for a while now.  If anyone has a trap that can maybe get her as I hate to see her have her babies in this cold.  531-530-9492.
FOR SALE:  2 canoes and one kayak with new trailer with tool box for $1,100 OBO.  Call 712-355-1566.
WANTED:  a chisel or jackhammer, electric or air powered.  Also, an oak bed, frame only.  Call 712-355-1566.
WANTED: Small bales of straw or baled cornstalks for around foundation of a house. Need them delivered for an elderly lady who lives 4 miles west of Griswold.  Call 712-783-4258 or 712-249-9143. Please leave a message if no answer.   FOUND!
FOR SALE:  I have (2) vanity lights and (1) ceiling fan for sale.  $20 for everything.  Call or text 712-249-3558.  SOLD!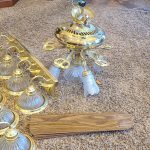 FOR SALE: Small antique organ. Fits on a 48″ wall. in working order. $100 OBO. 520-445-1343 call or text for information.
FOR SALE: 2 Snowblowers. Both are single stage, one is electric start. Both work good. Asking $175.00 each. Call for details 712-249-6835 (no texts please)
FOR SALE:  Drywall jack. 150 lbs lift capacity, 16′ ceiling and 19′ wall height capacity. 4″ lockable swivel casters. New. $175.00.  Call 712-254-3673.
WANTED:  Sears Kenmore Sewing Machine Manual, bobbins and cams for special stitches for a machine left to sell at Griswold's The Lord's Closet recently.  I have bought it and would be so grateful for these additions.  Thank you so much.  Phone at 712-769-2426 or 605-651-3135.