WEEK OF NOVEMBER 21, 2022
November 21st, 2022 by Jim Field
WANTED:  A tailgate for a 2009 Ford F-150 pick-up.  Color doesn't matter.  No dents or rust.  Call 712-249-2891.
FOR SALE: Shore Land'r boat trailer. Hauls a 16 ft boat. 1 7/8″ ball hitch. $450.  Call 712/549-2410.
WANTED:  Looking for a good used Freezer. Please call 712-249-2823.
ESTATE SALE: Lighted China Cabinet, light brown loveseat, and much more. Something for everyone. Saturday, November 26 from 9am-2pm and Sunday, November 27 from 1-3pm. Norma Reed Estate 1200 Roosevelt Drive, Atlantic. 712-250-0434
FOR SALE: Several sleds- 2 are new, 3 are used. $40 and up. 50 gal. Westinghouse hot water heater-energy efficient. Wood burning stove that attaches to furnace. Bought for $2000, will sell for $1000.  Also a Lenox furnace…used but has been serviced. $150 Call 712-355-1566
FOR SALE: Seven puzzles. They are all complete with all the pieces and in a non-smoking home. Asking $50 for all of them or $11 a piece. (No Holds) First come first serve. Call 712-249-7699.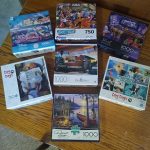 WANTED: Queen size bed, oak. Call 712-355-1566. FOR SALE: A variety of doors and windows. Most outside doors including some french doors. Also have a garage door. $20 on up. Call 712-355-1566
WANTED: An older KJAN coffee mug. Call 712-249-0900
WANTED: Someone to clear a driveway and sidewalks of snow, this season. Please call 712-249-7487.
FOR SALE: 3 Snowblowers.  *John Deere 22″ , 2 stage. Works great. $235. *Toro 18″ single stage with new flappers. Works good $165. *Craftsman 20″ single stage with new flappers. Works good $200. Located in Atlantic. Calls only 712-249-6835
FOR SALE: Two dairy goats for sale. 1 buck and 1 doe. The doe is pregnant and should give birth in December sometime. Very friendly goats. Asking $300 for the pair. Email chrismelanson88@gmail.com
WANTED: Looking for a set of bunk beds to buy. Don't need the mattresses. Located in Atlantic and have a pickup to haul. Call 360-271-0166.
FOR SALE: CAN-AM motorcycle with spyder decal package. Automatic with 900 original miles. Paid $20,000, Asking $10,000. Also have for sale a Chrysler LeBaron convertible. New muffler and 100,000 original miles. $1,800 or would be willing to trade for a small forklift. Call 712-355-1566.
FREE TO GOOD HOME: 2 Silky Rex doe rabbits. They are 1 year old, tame and would be great for a 4H project. These does are sisters and cannot be caged together because they fight.  If you take both rabbits and need the cages, seller has 2 cages for $100. Call 712-249-6074.