WEEK OF OCTOBER 3, 2022
October 3rd, 2022 by Jim Field
WANTED: Looking for someone to groom evergreen trees. Call 712-243-3350
FOR SALE: Chrome bumper for a semi. 19″ wide…$40. Also a dual packer for soil (pull behind a tractor) 10-12 ft…made of cast iron…$250 and 3 tractors…H International an Allis Chalmers -4 and two Allis Chalmers -17s…asking $1700 and up on the tractors. 712-355-1566 Council Bluffs
FOR SALE:  Sansui 32" LED Flat Screen TV.  Approximately 5 yr. old.  Includes manual.  Works fine.  Just don't need it anymore.  Asking $50.  Call or text 712-254-3990.  SOLD!
FOR SALE:  9′ x 7′ garage door, new in the box, $400 OBO.  Rec room equipment including a foosball table, hockey table, hot tub and steamer chair, asking $200 for all.  Call 712-355-1566 in Council Bluffs.
FOR SALE:  Maytag washer & dryer.  Stackable, natural gas.  Everything works.  Asking $250.00.  Call 712-249-0388 Atlantic. SOLD
FOR SALE:  Antique Caterpillar 2-man road grader for $500.  Several motorcycles from 170cc to 1100cc including dirt bikes, street bikes, cruisers and collectible bikes, asking $600 and up.  Call 712-355-1566 in Council Bluffs.
FOR SALE: Black walnuts that can be picked up near Anita. Call 712-249-2087 to come pick up what you want and they will talk price with you then. Located at 54968 730th Street in Anita, just south of the sale barn.
HOUSEHOLD SALE: Thursday, Friday and Saturday October 6-8 from 9am-5pm. Find something you like and make an offer. Located at 2756 190th Street, Audubon (9 1/2 miles east of Audubon) CASH ONLY
FOR SALE:  Vitamaster 1200 Treadmill – works.  The time, pulse, & speed monitor work.  Incline does not work.  $50.00.  Call 641-745-7505.
FOR SALE: Thompson Brand 7 cu. ft chest type deep freezer. 2 years old. It's clean and works like it should. Call Jim at 712-250-1769
GARAGE SALE:  Multi-Family INDOOR, Friday, Oct 7th: 3:00 pm – 7:00 pm, Saturday, Oct 8th: 7:00 am – 1:00 pm at the American Legion Memorial Bldg, 201 Poplar Street, Atlantic, IA.  Women's, Junior's & Girl's clothing, Boy's clothing, Home decor, Household/kitchen items, Blankets, Toys, Games & more!
FOR SALE: Gravely zero turn home/commercial mower. 635.1 hrs. New solenoid and switch. 45 inch deck. Runs and mows great! Asking $2200 obo. Call 515-523-1350 or 515-240-8267 (have owners manual). Located in Stuart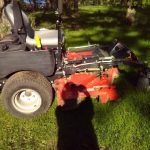 FOR SALE: New Toro snowblower. Used only 3 times, always stored inside. Paid $650 would like $500 obo. Call 515-523-1350 or 515-240-8267. Located in Stuart.
FOR SALE: Green and beige loveseat for $25. Also a green recliner for $5. Call 712-249-3282 after 2:30pm.
FOR SALE:  4 one-gallon cans of Sherwin-Williams Oil-Based Super Deck Clear Natural Finish (#6511-1846).  And, 4 one-gallon cans of Cabot Natural Oil-Based Wood Tone Deck and Siding Stain (#3000).  Asking $50/gallon, cash only.  Call 243-4165 in Atlantic and leave a message if no answer.
FOR SALE:  Bamm Beanos Sport Bears from 1998.  Make your lineup, #24 Tino Martinez, #25 Jim Edmonds, #10 Chipper Jones, #21 Sammy Sosa, #23 David Justice, #25 Barry Bonds, #25 Mark McGwire, #21 Roger Clemens, #3 Alex Rodriguez, #7 Ivan Rodriguez, #24 Ken Griffey Jr., #8 Cal Ripken Jr.  Mint condition & Tags, one owner.  Asking $50.00 for all 12 or best offer.  Call 712-243-4132 leave message.
FOR SALE:  10" DeWalt Compound Miter Saw for $150 and Craftsman 10" table saw for $125.  Call  712-249-1825.
FOR SALE:  Beautiful Pro Player Miami Dolphins leather coat. $90.00 Also have several window air conditioners for $20 each. Fireplace (never installed) $50. Call 712-355-1566 Council Bluffs
FOR SALE:  A mechanical, talking Halloween clown mannequin, asking $225.  Chrysler LeBaron with 100,000 mile and new muffler for $1,800.  Can-AM with Spyder package (wheels/exhaust/decals) with only 900 miles.  Looking for a serious buyer.  Call 712-355-1566 in Council Bluffs.
FOR SALE:  Toro self-propelled, recycler, bagger, side discharge lawnmower.  Asking $240.  If interested please call 712-249-2847.