Focus shifts to district play for Atlantic against ADM
September 22nd, 2022 by Chris Parks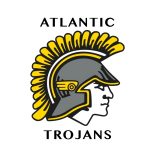 The Atlantic Trojans are looking to ride the momentum of a two-game win streak into the start of Class 3A District 6 play this week. The Trojans will host ADM for Homecoming this week and the Tigers come in with an unblemished 4-0 record.
The Tigers have been strong offensively. Quarterback Aiden Flora has rushed for 500 yards and 5 scores, while throwing for 668 yards and 5 more touchdowns. Brevin Doll has carried the ball 83 times for 690 yards and 12 scores and also has 10 catches on the year. Atlantic Head Coach Joe Brummer said solid tackling will be a key for his defense this week.
The Trojans have improved each week. Caden Andersen has done a great job through the air with 846 yards and 8 touchdowns. Coach Brummer said they have just been a few plays away from really getting the offense rolling. He said this week they will have to feel out what is going to work against an undefeated team.
The Trojans and Tigers will kickoff at 7:00 p.m. at the Trojan Bowl. The Atlantic youth football players will be recognized before the game and homecoming court will be honored at halftime. Here the full interview with Coach Brummer on Trojan Preview at 4:45 p.m. Friday afternoon on KJAN.