WEEK OF AUGUST 29, 2022
August 29th, 2022 by Jim Field
FOR SALE:  Four 265/60/R18 Goodyear Wrangler tires with about 1/3 to 1/2 tread life remaining, will sell cheap, call 515-710-3254.
FOR SALE:  Red Charbroil electric grill, new.  GE over-the-range microwave, slate finish, 4 years old, like new.  Cubii JR seated pedal exerciser, new.  Running boards for a 2012-2018 Jeep Grand Cherokee, like new.  Call 712-304-1531.
FOR SALE:  3-drawer oak dresser/night stand.  Asking $50 for it (Firm).  A couple of the handles need to be replaced and a little rough on top.  But a very sturdy heavy duty dresser.  Contact info is 712-249-7699 in Atlantic.
FOR SALE:  DR PRO 26 Field and brush mower. My 10.5 HP, 344cc Briggs & Stratton (engine) DR Brand Field & Brush Mower has been used only five times. Purchased new in June, 2018 for $2,000. It ran perfect last year, and is always stored in my garage away from the elements. It's a little dusty, but will fire right up. Comes with 2 keys and all owner operator manuals. I cannot haul it, but will help you load it. ASKING $1,300. Cash only. 712-249-7833. SOLD!
FOR SALE:  I have 2 tickets for sale for the Reo Speedwagon, Styx & Loverboy concert on Sunday, Sept 4th at 6:45pm.  Section 104, row B at Wells Fargo Arena.  I paid $675 – selling for $300.  712-249-3558.
FOR SALE:  Chrysler LeBaron convertible with 100,000 miles for $2,000 OBO.  Several motorcycles from 170cc to 1100cc including dirt bikes, street bikes, cruisers and collectible bikes, including a CAN-AM Spyder with only 900 miles, asking $500 and up.  H International tractor with wide front for $1,800 OBO.  Call 712-355-1566 in Council Bluffs.
FOR SALE:  Johann Haviland Dinnerware – Bavaria Germany. Pattern: Brown Twilight Rose. Eight, 7-piece place settings minus 1 coffee cup saucer and 4 of the soup bowls are Sweetheart Rose pattern. Includes meat platter, covered vegetable bowl, gravy bowl, cream pitcher and sugar bowl/lid. No oven, microwave or dishwasher. Very nice condition. $50 or reasonable offer. Call or text 712-254-3990.
GARAGE SALE:  Thursday, Sept. 1 & Friday, Sept. 2 – 10:00 am – 6:00 PM at 901 E 5th St.  Multi Family – Baby Girl premier through 2T – Household Items – Kids Toys – Lots of various items for all ages men and women. Lemonade & Brownie stand by the kids!
GARAGE SALE:  71555 Oxford Rd. in Cumberland, Thursday and Friday 3:00 pm – 7:00 pm.  Camper stuff, dishes, rugs, antique rocking chair, old camera stuff, pyrex dishes, Boyds bears, home interior, lots of junk. Cheap.
FOR SALE:  2005 31 Jayco Designer Series fifth wheel for sale. King bed, table not booth, safe, two recliner rockers, two slide outs, couch makes into double bed.  Well-built solid camper is starting to show age.  No leaks.  Also, will include a super glide hitch.  Call 712-779-0322.
FOR SALE: Appliances including a 3-door refrigerator, built in stove and double ovens starting at $40 and up. 712-355-1566
FOR SALE: 1981 Honda Gold Wing motorcycle. has been kept in storage unit. Asking $700 OBO.  712-254-0825
FOR SALE:  2 year old bull, naturally polled, miniature Jersey/Brown Swiss mix.  Located outside of Shelby.  Call after 6:00 pm or text 712-326-5889.  SOLD!
FOR SALE:  Eight – 6′ x 10′ dog kennel panels, one with door.  Asking $500.  Call 712-249-0282.
FOR SALE:  2 gallons of black exterior satin paint, never opened, $5 each. 4 gallons of dark gray exterior satin paint, never opened, $5 each. SOLD!  1 gallon of exterior flat latex redwood stain, partially used, $3.  If interested, call 712-249-6202.
FOR SALE:  Crossbow.  Barnett C5 wildcat with hand crank and scope, like new.  $200.  712-789-2577.
FOR SALE: Set of 4 pickup tires with a spare. 265/75/R15's on aluminum 5-bolt rims. Less than 3,000 miles on them. $300. Call 712-296-3654.
GARAGE SALE:  804 East Mahogany in Atlantic.  Friday, September 2 from 3:00 pm to 6:00 pm.  Saturday, September 3 from 8:00 am to 1:00 pm.  Plants, books, clothing, crafts and miscellaneous.
WANTED: I'm looking for radio jingles and ads. Can be on cassette. Call Mike at 305-935-2044 for more information.
FOR SALE: Small baby crib with mattress. Will fit through doorways. You haul. $50 OBO.  712-254-0217
FOR SALE:  McCullough Eager Beaver weed eater with straight shaft, works fine, asking $50.  2 Makita variable speed cordless drills with spare batteries and chargers.  $25 each or both for $40.  2 Larson 32″ x 80″ storm doors, white, older, glass and screens are good, $20 each or $30 for both.  Call 712-304-4998 in Hamlin.
FOR SALE:  Golden Retriever puppies, housebroken, love car rides.  Call 712-579-1981 .
FOR SALE:  Strong Steel Storage Lockers.  This one piece unit, with doors front and back, is 6 feet wide, 2 feet deep, and 6 1/2 feet tall.  Available in Atlantic. 712-249-5105.  SOLD!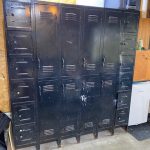 FOUND:  If anyone is missing this black cat please call me at 712-249-5047. AND If anyone has found a gray stubby tailed cat please call me because it's mine. You are welcome to keep it, but please let me know.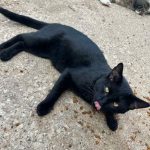 FOR SALE:  A heavy duty table saw with extended arms for plywood, purchased from a school, asking $125. Reduced to $100. A 50 gallon water heater, still in the crate for $800.  Also, rec room equipment, including a foosball table, hockey table and hot tub, all for $300.  reduced to $200.  712-355-1566 in Council Bluffs
FOR SALE: Bathroom vanity for $20. FREE 48″ rear projection TV. 712-254-0837
FOR SALE:  We have adorable male and female puppies waiting for their new home. Their mom is a purebred Golden retriever and the dad is a purebred Border Collie. They are 7 weeks old. Please message for more information. 712-249-5481.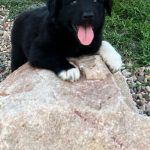 FOR SALE:   at 1119 North Division Street in Audubon–all items from a 98 year old mother in law…Priced low.  Call in advance 712-304-5066 the following items:  sofas, recliner, bed and bedside tables, dressers (one with mirror), table and six chairs, futon, coffee table, end table.