Master Gardener training now enrolling for August class
June 23rd, 2022 by Chris Parks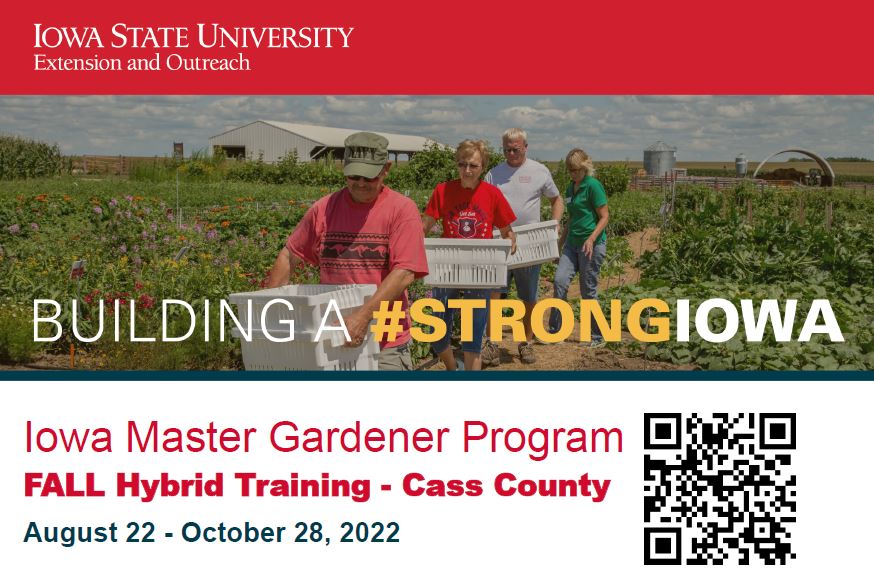 Applications are now being accepted for anyone interested in the Iowa Master Gardener training, which will be offered in many locations across the state, including Cass County, beginning in mid-August. Applicants have from June 3 to July 8 to apply for the fall session. Online training begins August 22, with a local orientation session scheduled for Monday evening, August 15th.  The program will be delivered in a hybrid format this fall, with many lessons taking place online, but several face-to-face learning opportunities also offered for trainees to connect and participate in hands-on learning activities as a group.
"Throughout the pandemic, many of our programs have been forced into virtual formats and participants have missed out on peer-to-peer interactions," said Alicia Herzog, Master Gardener Statewide Coordinator with ISU Extension and Outreach. "We find immense value in the learning that happens when our participants interact with each other, their county Extension and Outreach staff, and experts in their local communities. We're happy to be able to offer the best of both worlds with this hybrid format."
Iowans wishing to complete Master Gardener training should complete the initial registration online by July 8, and then will be contacted by their local extension office to complete a background screening and finalize payment and registration. Once accepted into the program, trainees will participate in online learning modules at their own pace through their home computer, and should also plan to attend at least 4 in-person training sessions organized by their county office to complete the training.
A total of 17 educational modules will be offered online by Iowa State University Extension and Outreach, on topics that include houseplants, pollinators, vegetables, and perennial flowers. Each course module includes a book chapter, lecture video, online discussion board for trainees to connect and discuss the topic and a follow up quiz. Participants will also take an online pre-test and post-test to gauge knowledge gained through the course.
Applicants for the 2022 training must apply online by Friday July 8. The online class begins on Monday, August 22. An in-person orientation class will be held at the Cass County Extension Office on Monday August 15th to distribute materials and discuss the hands-on training schedule. Apply and learn more about the program online at www.extension.iastate.edu/mastergardener.
The fee for the training is $150 and covers all class materials. The fee will be payable to the Cass County Extension Office upon acceptance into the program. Because Master Gardener volunteers work with many community partners, applicants will also be required to successfully pass a background screen before being accepted into the program. At the end of the course, there is an open-book test that participants will need to pass to complete the course and receive their certificate.
The Master Gardener program is open to anyone who is passionate about volunteering and gardening. No previous garden knowledge is required. The program equips participants to grow in knowledge about gardening best practices. After the training, Master Gardeners volunteer in their community, making contributions such as donating vegetables to food pantries, leading community beautification projects and maintaining demonstration gardens at local parks and county fairgrounds.
After completion of the MG Training, participants have 13 months to complete 40 volunteer hours to finish their "internship" and become a full Master Gardener. Annually, Master Gardener status can be maintained with 20 volunteer hours per year and ten hours of continuing education. Cass County has an active Master Gardener group that participates in many projects throughout the year, so opportunities to learn and volunteer are plentiful! Examples of local Master Gardener volunteer projects include educational workshops and seminars, maintaining community parks and demonstration gardens, and donating fresh produce to food pantries. Iowa State has offered Master Gardener training since 1977, engaging more than 15,000 people in learning about gardening best practices.
Iowans who want professional development training for their job and who do not plan to volunteer can participate in the ProHort option, for a fee of $550. No background check is required for this option.
Local extension staff can help anyone with questions about joining Master Gardener training this year, including details of when and where in-person meetings will take place locally.
For more information on the class, or the Master Gardener program in general, contact the Cass County Extension Office at 712-243-1132, or email Cass County Extension Director and Master Gardner Coordinator Kate Olson at keolson@iastate.edu. Online program registration can be completed at www.extension.iastate.edu/mastergardener.