WEEK OF DECEMBER 27, 2021
December 28th, 2021 by Jim Field
FOR SALE:  Turbo charged 2005 Mazda, modified car with open hood, 5 speed, 4 cylinder, running lights in front, won 2nd place at AtlanticFest last year, only selling because no garage to keep it in, currently in a friends garage in Atlantic so has been kept dry. 651-376-8696.
FOR SALE: Toro snowblower. 20″ single stage with electric start. Works well. $235 cash. Call 712-249-6835.
FOR SALE:  Assorted African Cichlids, 11 total available, 2-2.5" in length (3 -4 months old), $3 each or all for $25.  Located in Avoca.  Text Adam @ 641-512-6117.
MISSING:  Sandy colored 8 month old kitty. His ear is clipped because he has been neutered and had his rabies shot.  Last seen Friday evening Dec 3rd and Sat morning he was gone.  He has always been here ready to eat and play with brother and sister. His eyes run a lot too so he usually has marks down his eyes.  If anyone knows about him let me know.  If someone picked him up I just want to know either way if he's OK or something bad might have happened to him. He disappeared from trailer house on the corner of Highway 83 in Highland Addition.  In this picture Ollie is the one in front with his eyes almost closed.  712-254-3267.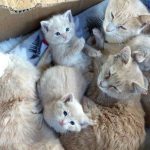 FOR SALE: 2 trailers full of old antiques, tools, and various other items that came out of a wind damaged shed. $5 on up for items. Call 712-249-0233.
FOR SALE:  Selling only because of health issue. New,electric bike. Selling below my cost. $1,300. Denison 712-269-5135. SOLD!