WEEK OF SEPTEMBER 6, 2021
September 7th, 2021 by Jim Field
FOR SALE: Oak church pews, padded, 10 ft. long. 712-789-9798.
FOR SALE: Baby bed with mattress. Like brand new. $100. Call 712-249-1825.
FREE:  to a train enthusiast, some older electric train cars and other assorted pieces.  Call 712-243-7747. GONE!
FOR SALE:  Vortex youth compound bow with accessories: stabilizer & release. $60 Excellent condition. Call 712-304-0979 for details & pickup/delivery.
FOR SALE: fox dune buggy/go kart, speedometer, brake lights, head lights, seat belts , roll bar, tilt steering wheel, goes up to about 40 mph. $1000 firm. 712-254-3553.
FOR SALE: Oval coffee table – 46″x24″ – $30; floral couch – 80″ long, good condition – $100; 2 recliners – $30 each. 712-243-3308.
FOR SALE:  25 Retaining Wall Blocks, $1.98 each OBO.  38 Scalloped Edging Blocks, $1.98 each OBO. Call 712-762-3159.  Please listen carefully, seller's speech is not always clear. No offense taken if asked to repeat.
FOR SALE:  Storage Chest. 28 1/2"W x 16"H x 18 1/2"D. Asking $25. Also a pair of safari pictures. Each measures 14 3/4"W x 26"H. Asking $35 for both pictures. If interested please call 712-249-2823.
FOR SALE:  Cub Cadet dirt/snow blade for old 60's garden tractor $50. 712-250-1005.  SOLD!
FOR SALE:  10 week old female Australian Shepard puppy! $500.00  Dew claws removed, 1st round of vaccines and de-wormed. Located near Audubon, Please call or text 712-304-1945 for more info.
FREE:  to a good home. Two 6 year old male cats (indoor/outdoor) that are litter trained, come with heated cat house and heated water bowl, neutered and de-clawed.  And, one year old Shiba Inu/Toy Poodle mix, potty trained, neutered and up-to-date on shots.  Family is moving and need to find good homes for the pets.  712-340-3460.
FOR SALE:  2011 Polaris Ranger Crew-Camo, 12775 miles, all serviced ready to go-runs good, good tires. Excellent condition. Call 712-789-1161 (cell) located at Elliott.
FOR SALE:  Wooden pulley $30.  Wooden Single Tree $30.  Call or text 712-249-9275.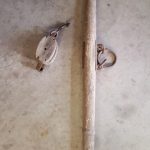 FREE: vegetables, tomatoes, carrots, peppers.  712-250-1005.  GONE!