WEEK OF AUGUST 23, 2021
August 23rd, 2021 by Jim Field
FOR SALE: small mini tiller, used twice. $75. 243-4914.
GARAGE SALE: Huge! Friday, August 27th from 10 am – ??, Saturday, August 28th 8 am – ?? 601 E21st St. Items are 25 cents and up.
FOR SALE: A chest of drawers in good condition. $20. Call 712-249-7733.  SOLD!
WANTED: Looking for a food processor. Call 712-250-1418.
FOR SALE: Firewood. Split, delivered, and stacked. Price depends on amount wanted. Call 712-420-3016.
FOR SALE: 2 metal watering cans $15 each; 20 more or less jelly jars $20 in a tote; 15 more or less pint and quart jars in tote $20; small Radio Flyer red metal wagon $15 SOLD!. 712-254-0217 evenings, can deliver to Atlantic or Exira.
FOR SALE:  Very unique sanded and finished 26 inch diameter tree slice. Would make a good coffee table or side table. Asking $40.  Call 712-249-9242 and I'll get back to u asap. Ask for Timothy.
FOR SALE:  I have Registered German Shorthair Puppies need new homes.  $800.00.  Puppies up to date on shots dew claws done and tails docked pups will have first de-worm also. 2 females 4 males.  Jen 712-880-0054.  SOLD!
GARAGE SALE:  Friday, August 27 from 3 pm to 7 pm and Saturday, August 28 from 8 am to noon.  No clothes but lots of everything else.  1507 E 18th St., Atlantic, IA 50022.  No early sales and cash only.
FOR SALE:  A Kenmore washer and dryer.  $300 for the pair.  Telephone 713-208-5698 or 712-249-6795. SOLD!
FOR SALE:  Kenmore electric dryer. Works great!  $125. If interested please call 712-249-2823. SOLD!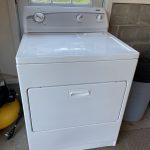 FREE:  friendly farm kitties. Approx 3 months old, two orange and white, one gray. Call or text  712-236-3658 to arrange pickup. Located just west of Harlan. FOUND A HOME
NEED A HOME:  For adoption Golden retriever 712-579-1981.
FOR SALE:  29″ Kent Flexor bicycle, 21 speed, good tires, rode very little, in excellent condition.  $115.00 Cash only.  If interested or if you have any questions, call 417-876-7108 (Kimballton area).