WEEK OF JULY 26, 2021
July 26th, 2021 by Jim Field
FOR SALE:  Ball Automatic Jam & Jelly Maker.  Only used once.  Does all the work, no cooking or boiling needed.  Asking $49, half of the original price.  Call 712-243-2288.
FREE:  to pick….. Jonathan Apples in Highland Addition . They are falling off the trees…. Pick anytime in the day time or evening.  Plus, still have kitties to give away to good homes. Thunder and lightning… Yellow males .. neutered and front declaw. Missy needs a home with no other kitties.  They love to be brushed and petted.  Pic of Missy trying to lay in small box.  Thunder is sitting on one of his favorite toy that he enjoys his catnip.  Lightning is the other one with the white on neck. I am trying to get him to his old self after being let outside before we got him back.  Call 712-254-3267.
FOR SALE:  Sweet corn, you pick, for a free will donation.  Located just north of Atlantic (Ron St. John).  Call 712-249-0233.  GONE!
FOR SALE:  15 cubic ft chest type deep freeze. Good condition, asking $100. Call or text Kurt at 712-249-0186.  SOLD!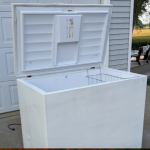 FOR SALE:  A small Baldwin piano with bench, in beautiful condition, like new.  Maple color.  No one in the house plays it anymore and it needs to go.  Would consider donating to church or other organization.  Will make you a great deal on a wonderful piano.  Located in Adair, call 641-742-3654.
FOR SALE:  Pie saver for $40.00.  Call 712-249-7733.  SOLD!
FOR SALE:  Futon in great shape for $50.00 (See the pic below)  call 712-249-7733. (Still available as of 8/13/21) SOLD!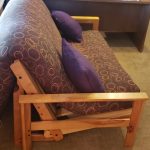 FREE:  Pro Form tread mill.  Works great, just a little noisy at times.    Call 712-254-2811.
FOR SALE:  Coleman sleeping bag, 33 X 75 with 4 pounds of filling, like new.  $15.  Call 712-254-2811.