St. Albert wins the Class 1A Baseball Title
July 29th, 2021 by Chris Parks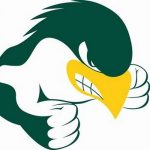 The St. Albert Falcons are the 2021 Class 1A State Baseball Champions. Their 4th State Title in school history was achieved at Merchants Park in Carroll on Thursday afternoon with a 7-5 victory over Kee.
The Falcons scored 2 runs in each of the first, second, and third innings and tacked on one more in the 4th. Kee scored one in the second but St. Albert had the commanding 7-1 lead by the end of the 5th. Kee was able to get the bats going a bit in the 6th and put up four runs to close the gap. Some interesting base running ended up poorly for the Kee-Hawks that frame. One of two runners that were still aboard got chased down in a pickle at third, ending the threat. The Kee-Hawks couldn't get anything going in the 7th aside from a mishandled grounder that got a runner on first. Carter White made the snag on a fly ball in left field for the final out.
The Falcons racked up 13 hits in the game and Luke Hubbard picked up the win on the mound. Cy Patterson came on in the 6th to secure the save and the title. Patterson also led the offense with two hits, and two RBI. Colton Brennan had 3 hits and scored twice. The Falcons end the season with a terrific record of 35-8 and pick up a State Title for the first time since 1999.