Davenport man pleads guilty to Felony Insurance Fraud
July 22nd, 2021 by Ric Hanson
Des Moines, Iowa – Officials with the Iowa Division of Insurance report a Davenport man, 31-year-old Dustin Cory Jungvirt, recently pled guilty to one (Class D) Felony count of Insurance Fraud – Presenting False Information. The charge and plea was the result of an investigation by the Iowa Insurance Division's Fraud Bureau.
Jungvirt's plea stems from an investigation that began in April 2018 which determined Jungvirt made material misrepresentations in a renter's insurance claim by lying about the date and time of loss in order to obtain benefits he would not have been entitled to.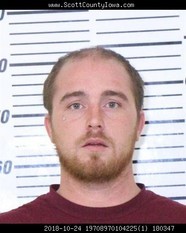 Following his guilty plea, Jungvirt was sentenced to five years in prison to be served consecutively with recent convictions on unrelated offenses. Jungvirt was also ordered to pay court costs along with a suspended fine of $750.
Iowans with information about insurance fraud are encouraged to contact the Iowa Insurance Division's Fraud Bureau at 515-654-6556.