WEEK OF JUNE 28, 2021
June 28th, 2021 by Jim Field
FOR SALE:  1947 Ford Ferguson 2N, runs well with overdrive, bush hog and blade attachments.  Asking $3,000.  Call 712-249-8225.  In Atlantic.
FREE: Have 4 cherry trees to pick from. 712-778-2234.
FOR SALE:  a very nice moped, yellow and black in color.  Make an offer.  Call 712-420-3016.
WANTED:  plumber to drill a water line or pipe under a house in Atlantic. To the outside.  712-249-6210.
WANTED:  In need of a cane.  Please call if you have one to help.  712 254-9154.  FOUND!
FOR SALE:  2003 Honda VTX Motorcycle, 1800cc, excellent condition, new battery. 13,195 miles. shaft drive, cobra pipes, highway pegs, large saddle bags, a rack on the back, large wind shield, 3 storage pouches with Velcro closures, nice comfortable seat with a back rest for the passenger, good tires. Always in garage.  $6000.00 Cash.  Please call or text 701-240-8190 (Marshalltown, Iowa).
FOR SALE:  Gooseberries—$4 per quart 712-249-1453.
FOR SALE: Porch swing with cushion, 3 person seat, can be dis-assembled to haul, located in Greenfield. $45. 641-745-5612.  SOLD!
WANTED:  Looking to buy a 32″ or 47″ flat screen TV w/remote. Could also use some help setting it up and would pay for the assistance.  Call 712-243-2860.
FOR SALE:  Poulan 20″ push mower, 4 HP Briggs & Stratton motor, adjustable wheels, runs good $125; Heavy duty load binder with hooks and screws, ratchets tight with ratchet bar.  Asking $75.  Call 712-304-4998 in Hamlin.
FOR SALE:  Pittsburgh 3 ton aluminum jack. $225.00.  Torin 1 1/2 ton jack. $100.00.  Fimco Spot Sprayer (10 Gallons) $85.00.  Complete Basketball hoop and stand $145.00.  All items are new and still in the box. Pictures of box upon request.  Please call 417-876-7108 / No text please.  We are local.
FOR SALE: Baby crib with mattress, dark wooden color, used very little. 712-249-1825.
FOR SALE: Troy-Bilt lawn mower, 42″, 17 hp Kohler, hydrastatic like new $850 cash; Huskee lawn mower, 42″ 18 hp, hydrastatic, good mower $525 cash. 712-249-6835.
FOR SALE:  Storage cabinet. This cabinet has plenty of shelving and also a rod to hang clothing. 48"W, 71 1/2"H, 20 1/2" D.  Asking $30. Call 712-249-2823 if interested.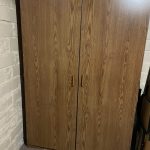 FOR SALE:  above counter sink with faucet, like new, only used a few months., $150.  Phone 515-205-9778 in the Exira area.