WEEK OF JUNE 21, 2021
June 21st, 2021 by Jim Field
GARAGE SALE:  Saturday, June 26th at 8am, is my tropical plant and garage sale. Several varieties in all different sizes. Banana trees, bird of paradise, split leaf philodendron, elephant ears (alocasia and colocasia). Fun garage sale items also, pet items, home, and vintage items. 311 Prospect St, Stanton, IA 51573. Questions call 712-621-5627.
FOR SALE:  Hog panels for $18 each and cattle panels for $14 each.  Also, a 1947 Ford Ferguson 2N with bush hog and blade attachments.  Asking $3,000.  Call 712-249-8225.
WANTED: A (tandem axle) car trailer.  FOR SALE: a W-D Allis Chalmers tractor and a D-17 Allis Chalmers tractor (Make an offer on either or both). Call 712-420-3016.
FREE:  10 pairs of denim carpenter style men's jean shorts. Size 36 waist.  In Anita, call 712-254-6842 or 712-254-6845.  CLAIMED!
FOR SALE:  Poulan 20″ push mower, 4 HP Briggs & Stratton motor, adjustable wheels, runs good $125; Heavy duty load binder with hooks and screw, ratchets tight with ratchet bar.  Asking $50.  Call 712-304-4998 in Hamlin.
FOR SALE: Ergo battery operated self-propelled lawn mower, with battery & charger, push button start, no gas, no oil. $200; Purebred Aierdale puppies, 9 weeks old, weened, tails docked. $500 each. Located south of Clarinda. 712-582-3200.
FOR SALE:  fresh cherries. and maybe cherry pie taking orders, 712-579-1981.
WANTED: A small disc that will hook to a mower, to cultivate a small garden. Please call 712-769-2387.
FOR SALE:  Computer/ Office Desk – 30"x60" tan metal desk with walnut grain Formica top.  6 drawer(1 is file drawer)  $75.00 Call (712)5632030
YARD SALE:  401 Pioneer Avenue in Wiota on Friday, June 25 from 3:00 pm – 7:00 pm and Saturday, June 26 from 9:00 am – ?.  Lots of miscellaneous items, a set of 7 tea towels, lap blankets, lots of books, quilt magazines and cookbooks, plus lots more.
WANTED: Looking for a pair of 13″ tires on rims for a trailer. Call 712-249-8225.
FOR SALE:  Multiple wood type coffee table(s) a single $150. It's an upside down tree stump with tree slices on each root.. Call Tim at 712 249 9242 and leave voice mail.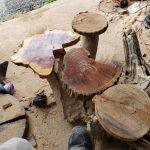 FOR SALE:  2 push lawn mowers one is like new $35 and $75. 712-250 1005. Atlantic.
FOR SALE:  2003 100th Anniversary Wide Glide Harley Davidson $8500.00 obo 712-304-2819.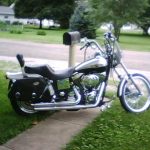 FOR SALE:  Old wood windows for painting on.  4 1/2 bundles of shingles, desert sand color.  And, 9′ x 7′ insulated garage door.  Call 712-268-2713 in Exira.
FOR SALE:  Electric BBQ grill. Asking $40.00 (firm)Not very old. Little dent in lid. Nothing major. Contact # is 712-249-7699.