WEEK OF MAY 31, 2021
May 31st, 2021 by Jim Field
FOR SALE:  Turbo charged 2005 Mazda, modified car with open hood, 5 speed, 4 cylinder, running lights in front, won 2nd place at AtlanticFest last year, only selling because no garage to keep it in, currently in a friends garage in Atlantic so has been kept dry. 651-376-8696.
FREE:  1976 Holiday Rambler 5th Wheel Camper. Could be used for parts, etc. Need King Pin Hitch to tow away. Call 712-789-2744 OR 712-778-2454.
WANTED:  Looking for an adult 3 wheel bicycle/tricycle.  A fixer upper would be okay if not too far gone.  In Atlantic or surrounding area. Call or text 712-254-3990.  FOUND!
YARD SALE:  Friday, June 4 -Saturday, June 5 from 8:00 am – 5:00 pm at 2024 US Hwy 71, Villisca (in Tenville) Antiques & Collectables; Wind mill, iron wheels, horse tack(new and used); pet carriers, leashes, leads; electric trimmers (all sizes) crafts (wood, sewing, puzzles) clothing; yard art; oak desk and chair. Too many items to list. Two sheds and yard full.
FOR SALE:  a couple of quarter's and halves of beef.  Call 712-249-7139.
FOR SALE:  Sofa with matching love seat $100; recliner, would blend with sofa $40; four drawer filing cabinet $35.  712-563-2039.
FREE:  Three adorable kittens.  One is black and white with white socks named Maggie May.  One is calico colored named Callie and one is gray with white socks named Socks.  They can eat hard or soft food and are litter trained.  They are 8 weeks old.  Address:  108 2nd Ave., Audubon.  Phone:  407-223-9056.
WANTED:  Looking to buy a 32″ or 47″ flat screen TV w/remote. Could also use some help setting it up and would pay for the assistance.  Call 712-243-2860.
FOR SALE:  One pair of engine rear guards for Goldwing 1500 – Like new – $100 (Honda OEM). Taken off a '99 when it was triked in 2000.   UltraGard brand half cover (gray) that fits any full-size motorcycle with windshield. Water resistant.   Very good condition. – $20  Items are in Exira.  Ph:  515-943-6471.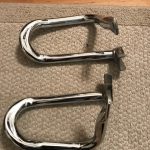 FOR SALE: La-Z-Boy reclining loveseat. Made of brown cloth and seats two. Has been in a home with non-smokers and no pets. Asking $210. Call 712-249-6834, located in Atlantic.  SOLD!
WANTED:  John Deere 345 mower that needs work. Phone 712-482-6863.
WANTED:  One 12″ x 12″ x 1/4″ ceramic tile to replace broken tile on patio table.  Call 712 254-9154.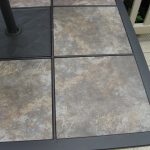 FOR SALE:  Hotwoods Lil'sport pontoon boat 5ft x 12ft platform.  Includes Shorelander trailer, Mercury 9.9hp 4-stroke motor & gas tank, and Minn Kota 55lb thrust trolling motor. Good working order. $5500.00 OBO.   712-249-3380.  SOLD!