WEEK OF APRIL 5, 2021
April 5th, 2021 by Jim Field
WANTED: 3.2 or 5.2 chest freezer. 712-243-4835.
FOR SALE:  Two refurbished Green Mountain pellet grills (like a Traeger). Easily can smoke or grill. Temperature ranges from 200 to 500 degrees. Call Jeff at 712-249-1716 for any questions. Asking $325.00 each OBO. If want to look at grills they are at Anita Lumber Yard in Anita, Iowa. Questions/negotiations should be made with Jeff, not anyone at Anita Lumber Yard.
FOR SALE: Ariens riding mower, 50″ deck, 16 hp Briggs & Stratton, runs fine $400. 712-243-4914.
MOVING SALE: Saturday, April 10th 8 am – 5 pm, 105 Center St., Wiota.
FOR SALE: 1) Pair of Wolverine Men's size 12 steel-toed work boots, $10. 2) Pair of older Carhartt bibs, $10. Call 712-243-2860.
FOR SALE: Work station/computer desk. Compact size, 3′ wide, 4'5″ tall, and 20″ deep. Slide out options for pen drawer and storage. Pigeon hole slots for envelopes etc. Gray granite worktop and lighter brown/mahogany color for the rest of the unit. $45 OBO. Call 712-243-5096.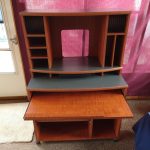 FOR SALE:  Seed Oats, grown, harvested and cleaned by the seller.  99% germination.  Available in bags only.  $12 a bag (1.5 bushels).  Free delivery within a 30 mile radius of my home.  Other arrangements can be made if further out.  Call Dave at (712) 579-6979.
FOR SALE:  2 maple twin beds that can be bunk with ladder – $10, maple 4 drawer dresser – $10, SOLD!