WEEK OF MARCH 15, 2021
March 15th, 2021 by Jim Field
FOR SALE:  Collector toy tractors Scale 1/16: (in boxes) Case DC-3 with eagle hitch- $150.  Allis Chalmers CA- $120. Allis Chalmers D-14 gas tractor- $20.  ERTL Farmall BN collector edition- $50.  ERTL Farmall 560 Diesel- $75.  Call or text April @ 249-6983. Leave a message.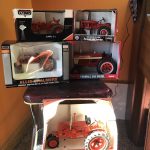 FOR SALE:  2000 Ford F150 1/2 ton pickup with 56,000 miles, 6 cylinder, 5 speed manual transmission.  Asking $3,750.  Call 712-243-1512 and ask for Brett. SOLD!
WANTED:  Whitney Bank cookbook published several years ago.  Recipes were favorites of the employees, etc.  Mine got ruined and I am trying to find one as I used it a lot!  Call 249-0116.  FOUND!
FOR SALE:  Men's Bicycle, 21 inch, good shape. $60.
FOR SALE:  Golden Retriever puppies.  712-579-1981. Also eggs.
FOR SALE: Single story, 2 bedroom home in Exira. 1 large and 1 small bedroom. Excellent condition with new windows, new roof, and newer central air unit.  Appliances, including side-by-side refrigerator, washer and dryer and stove are included. The home will need to be moved off the property. Seller is willing to work with buyer on time frame to get it moved. Also has a deck on the front that could go with it. Would be a great retirement or starter home. Asking $15,000. Call 712-304-2587. Also selling 3 industrial size sliding glass doors. 8′ wide and standard height. Pella glass brand with double pane, argon sealed, energy efficient glass. Still in the wrapping and have been kept in a heated garage. Can check them out because they have different sliding styles and coloring. $300 each. Call 712-304-2587.  SOLD!
FOR SALE: 2 sets of men's golf clubs with bag for $5 each. FREE: 1 set of kids golf clubs with bag. Call 712-249-7733 in Atlantic.
WANTED:  Need a 2-3 BR  house to rent in Atlantic or surrounding area even as far as Exira or in the country.  Cat friendly.  Responsible person that keeps place in good condition.  712-254-3267.
FOR SALE:  Old electric motor (it is a collectible) – $50.  FEATURES:  One (1) horsepower heavy duty electric motor manufactured by Master Electric Co., Dayton, OH. Runs 1725 rpm and has alternating current as 110 or 220 volts. It is over 60 years old and is a quiet running motor and works fine. The company that manufactured these motors no longer manufactured them after 1961 as the company was sold to another company.  This motor has been in storage for over 45 years.  If interested, will send a picture.  Ph: 515-943-6471.
FOR SALE:  John Deere F510 riding mower with 38″ cut, 14 hp, 4 cycle, hydrostatic trans, ready for action…call 243-4132  for more info.
FOR SALE:  I have for sale a 170 John Deere Riding lawn mower.  It is a 38 inch cut with extra blades, a 420cc cast iron heavy duty motor and a bagging system provided with it.  It is in excellent condition.  It may need a new seat but that is the only issue with it.  It has been very dependable and not used for commercial mowing.  I purchased it 2 years ago but have now purchased another mower so I don't have any need for the John Deere.  For more information phone 712-268-5531 or 712-304-7579. This is a listing in Exira.