WEEK OF JANUARY 4, 2021
January 4th, 2021 by Jim Field
FOR SALE:  I have several tree slice end tables for sale.  Call Tim at 712-249-9242.
FOR SALE: Restored 1936 John Deere A, great shape, runs, all new tires, new paint and decals. $3,500. 712-210-2259 (Atlantic)
FOR SALE:  1. A Black helmet for motorcycle riders and it has shield and comes with cover. Asking $25.  2. A new bottle of men's cologne.  Asking $22 (VAQUERO brand.)  Bought it new at $35.
Call or text 712-304-2951.
FOR SALE (PRICE REDUCED to sell!): Turbo charged 2005 Mazda, modified car with open hood, 5 speed, 4 cylinder, running lights in front, won 2nd place at AtlanticFest last year, only selling because no garage to keep it in, currently in a friends garage in Atlantic so has been kept dry. $5000 Firm. 651-376-8696.
FOR SALE: John Deere 522 snowblower, 5 hp, 22″ cut, electric start, with chains. $400 obo. 712-268-2609.
WANTED:  Can someone let me know of a place in Atlantic that I can take clothes to?  Ever since the Salvation Army store closed I have no idea where to take things….please text me at 865-963-7499 if you can help.
WANTED: Looking for 1973-1975 Anita School Yearbooks. Willing to pay $10 each or a little more if in good condition. Call 712-769-2557.
WANTED: Oversized recliner. 712-254-6609 in Atlantic.
FOR SALE:  2018 8320 R John Deere tractor, 5 year warranty, loaded, only 10 hrs.  Asking $285,000.  Side screen for 55 Series John Deere mechanical front tractor, $300.00.  712-269-7725.
FOR SALE:an older stationary bicycle, works just fine.  Asking $40.  Call 712-250-4021. SOLD!
FOR SALE: Firewood, split, delivered in stock. 712-420-3016.
FOR SALE:  Boer cross weather goat, born Nov 5th.  Been giving his CDT shot and booster also have been given a copper bolus pills.  Dehorned November 14th.  Will be weaned Feb 5th.  Been eating hay and grain very well!  Asking $250 obo cash only.  Call or text 712-249-9194.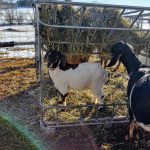 FOR SALE:  2 full-face helmets.  One is an HJC, black and blue with visor for snowmobiling.  The other is a 509 flat white.  Will take $100 for the pair.  Call 712-254-6167.
FOR SALE: 24 inch wide Snapper snowblower $300. Call Jay 712-307-2193
FOR SALE: Pair of heavy duty 12 ton jack stands. $50 for the pair. 243-4914. SOLD!
FOR SALE: Football & baseball cards from the 1970-80's. 212 Topps cards and 170 Panini, over 400 cards. $200. 712-243-4914.
FREE:  treadmill, 5 ft. in length, exercise bike SOLD!  Also, have two white utility cabinets, 5 ft. with 4 shelves, and a 5 drawer chest of drawers, all free.  Call 712-563-2039.