Atlantic runs past Clarinda, Rasmussen tops 1,000 career points
January 12th, 2021 by Chris Parks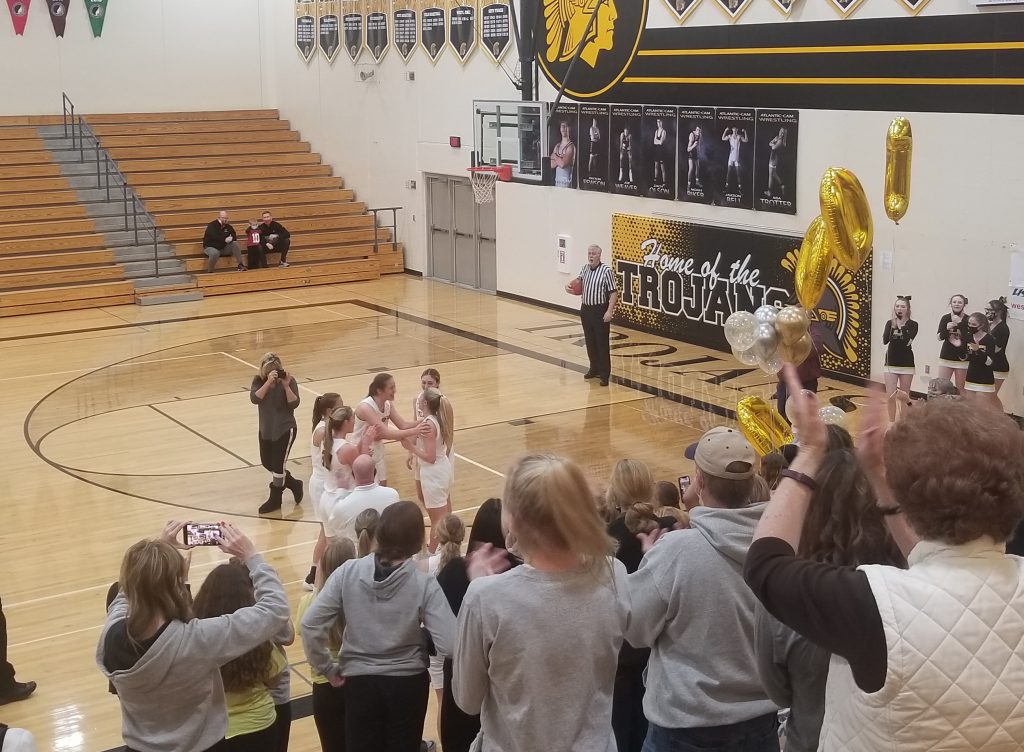 The Atlantic girls basketball team was tested early by Clarinda but started to pull away by the end of the second quarter and ran away with a 71-35 win on Tuesday night. Atlantic lead 17-14 at the end of the first but gradually started to get the transition offense flowing and built the lead to 40-21 by halftime, scoring the last 13 points of the half. The Trojans kept the foot on the gas in the second half and pulled away for their second win over the Cardinals this season.
In the process of the victory, senior Haley Rasmussen reached the 1,000 career point plateau on a free throw in the third quarter. The game was paused for a moment before the second free throw as her teammates and supporters cheered the accomplishment as it was announced to the crowd and brought some balloons sideline to mark the occasion. Rasmussen led all scorers on the night with 22 points and the Trojans improved to 5-6 on the season. Jada Jensen finished with 18 and Tessa Grooms had a solid game inside, finishing with 15 points. The Trojans will now prep for a home game on Friday against Harlan.
Clarinda was led by 14 points from Jessalee Neihart and 12 from Chloe Strait. The Cardinals fall to 2-11 and will next up host Sidney on Thursday.
We'll have coverage of Atlantic vs. Harlan on Friday. Catch the full game replay HERE.