Red Flag warning in effect for Cass & area Counties from 1-pm today until 8-p.m. (10/14)
October 14th, 2020 by Ric Hanson
Critical Fire Danger Today…Strong winds NW @ 20-45 mph) and low relative humidity this afternoon will result in rapid spread of any fires that start, and the potential for uncontrollable fires.
343 AM CDT Wed Oct 14 2020; Area Counties: Cass-Audubon-Guthrie-Monona-Harrison-Shelby-Sac-Crawford and Carroll….
RED FLAG WARNING IN EFFECT FROM 1 PM THIS AFTERNOON TO 8 PM CDT THIS EVENING FOR CRITICAL FIRE DANGER...
* Impacts…Any grassland and field fires that start this afternoon may spread rapidly and become uncontrollable.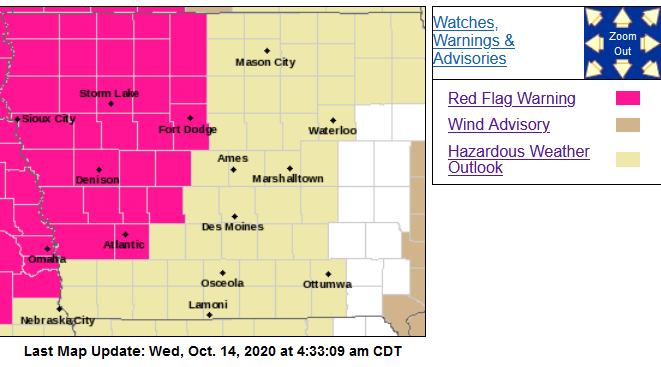 PRECAUTIONARY/PREPAREDNESS ACTIONS…
A Red Flag Warning means that critical fire weather conditions are either occurring now, or will shortly. A combination of strong winds, low relative humidity, and warm temperatures can
contribute to extreme fire behavior.