WEEK OF SEPTEMBER 28, 2020
September 28th, 2020 by Jim Field
MOVING SALE:  Today (Friday) @ 2-6 and Saturday @ 8-1. at 1604 East 18th St., Atlantic, Iowa.  Ethan Allen game table and 4 chairs, Ethan Allen bar with 3 chairs, two Ethan Allen upholstered chairs with foot stool, many fine pictures, toys, some kitchen items, ironing board, small tools, steel 4 drawer filing cabinet, glass patio table and 4 chairs, small quilting frame, large hoop with frame, Christmas items, Easter, fall decorations, items too numerous to mention.
FOR SALE: Set of 4 plus a spare car tires, 205/55/R16, less than 4,000 miles. $150. 712-420-3016.
WANTED:  an old Volkswagon van or pickup from the 1950's or 1960's, in any condition.  Offering a $250 finders fee.  Call 620-910-7257.
FOR SALE:  I started golfing for the first time ever with my husband in May. He bought me this set of clubs along with a few others (2 hybrids and a sand wedge).  These clubs were purchased online at the end of May and used until the end of August. We paid $450 (+ more with shipping). The entire set of 12 clubs is for sale for $250, the bag is included. That works out to be just over $20 per club!  Wilson Women's Complete Golf Set Includes 9 clubs: Driver, 3 Wood, 5 Hybrid, 6 iron through pitching wedge, Putter.  Text me at 913-205-5098 and I'll get back to you on a first come first serve basis.
WANTED:  A cast iron base to an old treadle sewing machine. Call (712) 249-5286.
FOR SALE: Full row in the back of a pick-up, box high pile of hickory firewood. $20; brown dorm fridge with freezer, works good $25. Call 402-506-0787 in Lewis.
WANTED: Looking for a used refrigerator. Call 402-305-9053.
FOR SALE:  Handmade walnut end table/side table.  Asking $75 call Tim at 712-249-9242.
FOR SALE:  Self-propelled lawnmower – 5.5 HP (Honda Motor) with 21″ cut that mulches, bags and has side discharge. Bag included.  Runs well. $65. SOLD!  Also have paperback books – Regular romance, modern western romance, Harlequin, etc.  Books in like new or good condition. Prices starting at 50 cents.  For more information, call 515-681-5997 (Exira).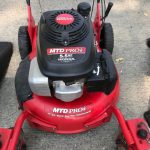 FOR SALE:  The Perfect Pancake skillet is a great way to have your kids make pancakes. Simple instructions, so easy to supervise.  Selling for $2.00.  Jack Reacher DVD is a good movie. Stars Tom Cruise. Released in 2012. Selling for $5.00.  The 2 Wimpy Kid books are a fun reading series.   I believe The Third Wheel is 7th, and The Long Haul being the 9th. Selling each for $2.00.  Call 243-2344.