WEEK OF SEPTEMBER 14, 2020
September 14th, 2020 by Jim Field
FREE:   To pick up yourself.  Near Lewis: A full size piano made of dark burl oak with about 7 keys in need of new ivory. The wood is beautiful to re-purpose if piano not needed. A good solid tone.
It is loaded on a dolly and secured for moving. May back into east porch deck area and have no steps to move it. Please call with any questions to 712-769-2426 or 605-651-3134 and please leave a message.
WANTED:  a 55 gallon barrel for burning.  Call 712-789-9798.
FOR SALE:  39″ Scepter flat screen TV, works well, $125 or best offer.  Small dark wood roll top desk, measures 23″ wide and 43″ tall, asking $75.  Also, an HP color printer, only prints from gmail so might be an issue someone could fix, giving it away free.  Call 712-243-2408.
FOR SALE:  Lumber–sawmill cut walnut planks and sawmill cut oak, 1 x 12's. Also vintage 1 x 12 barn boards. Call (712) 249-5290 to see and make an offer.
FOR SALE: Coca Cola polar bear clock, brand new in box ; 5 coca-cola glasses; set of 6 coca-cola mugs, brand new in box $40 obo for all. 515-523-1350.
FOR SALE: Display shelf unit. 6′ tall x 30″ wide x 15″ deep. Solid wood frame with 6 shelves. 4 shelves are removable glass. Excellent condition. $25. Call 712-243-3662 or 712-789-0395.
FOR SALE: Self-propelled MTD Pro lawnmower with Honda Motor. 5.5 HP and 21″ cut. Mulch/bag/and side discharge. $65. In Exira, call 515-943-6471.
FOR SALE: Oak china cabinet with lights. Good condition. In Exira $325. Please call 712-268-2340.
FOR SALE:  a small, single-level house in immaculate condition, gotta see it to believe it.  Built in the early 1950's, walls are drywall, wood floors in front room, has a deck, new roof, new furnace, new windows, all appliance, central air conditioning.  Would be a great starter house or retirement house.  It is located in Exira but will have to be moved.  Solid construction should be an easy move.  Willing to work with the buyer if it takes a few months to get the home moved.  Asking $15,000.  Call 712-304-2587.
FOR SALE:  One sheet 4′ x 7′ x 5/8″ fire resistant drywall – $6.50.  NEW Zebco ProStaff graphite rod (6′ 6″), medium action – $15.  NEW Rhino Indestructible graphite rod (6′), medium action – $20
Also some fishing lures.  Items are located in Exira.  Call 515-681-5997.
FOR SALE: A good sized pile of firewood. Walnut, fruit trees, all good stuff. $20 for the whole pile or come pick what you want for a lesser price. Call 402-506-0787 in Lewis.
WANTED:  Looking for Dish antenna and cables.  Phone number 712-249-5467.
FOR SALE:  Ingersoll-Rand heavy duty 1/2″ air impact wrench, works just fine, asking $50.  Also, King drill driver, 14.5 volt with extra battery and charger, works great, asking $30.  And, a heavy duty load binder, screw-type with ratchets and hooks for $45.  Call 712-304-4998 in Hamlin.
WANTED:  a chest shield for an 8 year old dirt bike rider.  Please call 712-762-4480.
FOUND:  Please call me if this is your kitty or if you want to give it to indoor home. It has a very stubby tail, and it is a girl. 712-249-5047.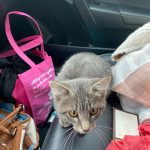 FOR SALE:  Moving-can't take everything!  Sofa sleeper – FREE – you haul.  Hutch with glass shelves and interior light – $50.  Call 712-254-3125 in Atlantic.