WEEK OF AUGUST 24, 2020
August 24th, 2020 by Jim Field
FOR SALE:  Would like to sell heavy duty swing set manufactured by Emmert Manufacturing Company — Audubon, Iowa.  Constructed with well pipe.  Has grease zerks for a smooth ride.  Babyseat and Trapeze included.  Asking $100.  Call 712-268-2739.
FREE: firewood. 712-323-4890.
FOR SALE:  19″ x 2″ x 19″ oak slice end table. Beautiful end table/plant stand. Hand crafted from oak. $75.  Call Tim at 712-249-9242.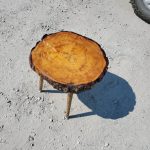 WANTED: Anvil. 712-323-4890.
FOR SALE:  Ball automatic jam and jelly maker, used twice, it does the stirring for you.  Asking $49.95 (1/2 price).  Call 712-243-3021.
FOR SALE:  I have some Male Muscovy ducks for sale, $8.00 each.  Call 712-249-1904.  Need to bring a cage if you want some.
GARAGE SALE:  Friday, August 28th From 1:00 pm to 5:00 pm and Saturday August 29th From 8:00 am to 2:00 pm at 809 Linn St. in the Garage in back.  Like new Halloween and Christmas decor.  Lots of home decor.
FOR SALE:  a small, single-level house in immaculate condition.  Built in the early 1950's, has new roof, new furnace, new windows, all appliance, central air conditioning.  Would be a great starter house or retirement house.  It is located in Exira but will have to be moved.  Asking $15,000.  Call 712-304-2587.
FREE:  I have a loaded pear tree.  Call 712-249-0233 if you'd like to stop by to pick pears before they go to waste.
WANTED:  a pair of tractor tire chains size 18.4-34.  Call 712-769-2486.
WANTED:  lids for smaller Ball canning jars.  Call 712-249-0900.  FOUND!
WANTED:  Experienced carpet layer for 1 story house. 249-6880.
WANTED:  I am interested in buying a used thickness planer and other power tools.  Call 712-246-1352.
FOR SALE:  2008 Chevy Impala,  157,000 miles, $2900.  Call 712-789-2618.  SOLD!
FOR SALE: Several different size shape and colored tree slice side tables. Asking $75 each. Call Tim at 712-249-9242.