Week of August 10, 2020
August 10th, 2020 by Stacie Linfor
FOR SALE: Brand new lift kit for a 2000's Chevy pickup. If you are interested they will look up exact year models it will match. $40. Call 402-506-0787 in Lewis.
FOR SALE:  Several wedding items:  Votive candle glasses for $1 a piece (36 bumpy and 18 smooth).  Container of rose petals for $5.  Two bucket of decorative stones for $15/bucket.  "Thank You" streamer for $5.  Well wishes box with papers for $20.  Decorative letter (C & M) for $5 each.  Yummi unscented 2" floating candles-$5 a box.  Ring Bearer Pillow-$10.  2 Buckets for $12 each.  36 mirrors for $35.  35 Table runners for $35.  Cards and gifts sign for $10.  Call 712-304-1179.
FOR SALE: 2 pressure washers. They are Craftsman brand, engines run well but they both need new pumps. One of them is on a cart with extras. $50 for both. 712-249-0233.
FOR SALE:  Heavy duty 1/2″ air impact wrench, works fine, $50.  Heavy duty load binder, screw type with ratchets and hooks, works fine, $45.  Call 712-304-4998 in Hamlin.
FOR SALE:  Coleman camp stove with tank, $25.  Little Red Camp Fire, $20.  Bass Pro Shop Fish Fry kit, $30.  All prices negotiable.  Call 712-250-0066.
FREE TO A GOOD HOME:  Looking for a home for 3 tortoise shell older kittens. One has lost an eye. Very well socialized and get along well with other animals. Call 712-254-2350.
FOR SALE:  I have a 19″×2″ maple tree end table/plant stand for sale. $75.  Call Tim at 712-249-9242.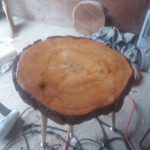 FOR SALE: Brand new ball-bearing DeWalt circular saw. Comes with blade and case. Never used. $60. 712-243-2860. SOLD!
WANTED:  a power washer for a shop.  Call 712-420-3016.
FOR SALE: Gauge & hose for acetylene tank. $80. FREE: firewood. 712-323-4890.
FOR SALE: Dresser – $100; media storage – 2 for $140; dresser $50; Antique hall tree $700 obo. 712-249-6891.
FOR SALE: Brown queen sized sofa sleeper, 3 years old, barely used. $300. 712-243-4047.
FOR SALE:  We are selling a 68 piece train set that was set up, ran on the track maybe a couple of times and then boxed up.  Has a diesel engine with operating headlight and 4 cars.  Includes the oval track.  Selling for $100.00.  Call 712-249-5206.  Also selling some extra straight track. 16 pieces, for $40.00.  SOLD!
FOR SALE:  I have an oak, walnut, and cedar end table/plant stand. Ur choice $75. Call Tim at 712-249-9242.
WANTED: Stand up air compressor for a shop. 712-420-3016.