WEEK OF JULY 13, 2020
July 13th, 2020 by Jim Field
FOR SALE:  lightweight Black and Decker chainsaw 8 inch blade with 18 volt battery pack $20.00.  Also free Sylvania older TV 19 inch call712-249-3173.  SOLD!
FREE: General Electric gas clothes dryer, excellent condition, works perfectly. You pick up. Call 712-249-8750 in Atlantic
FREE: Desk, good condition. Must come pick up. Call 712-249-9650
FOR SALE: 1) 2 sets of golf clubs with golf bag. One set is Northwestern brand the other is Delta, both are right-handed and include woods w/ covers, irons and putters. $50 each set. 2) 2 pair of brand new golf shoes. 1 pair are size 13M Footjoy. 1 pair size 12/13 Wilson white. $10 each pair. 3) 3 section hand pole trimmer with rope and saw blade. Asking $25.  FOR SALE: Pentax camera has zoom lens, 50 mm lens, 110 mm lens, in  case, takes film, in good shape. $100; 2 pocket cameras – Kodak w/ case $10 and a Gad w/ case. Both take film, $10 each. ALL SOLD FREE: Zenith 25″ color tv, wooden console. w/ remote. Call 712-243-2860. Located in Atlantic.
TO GIVEAWAY: Firewood. 712-323-4890.
FOR SALE: Werner 28′ D-rung Saf-T-Master Type 3 aluminum extension ladder, like new. $130. 249-1804 leave message.
FREE: Medium duty wheelbarrow. Has one handle broken but the rest is in great shape. Sitting at the end of the driveway at 64082 Jackson Road for the taking. GONE!
FOR SALE: Antique hall tree. $700. 712-249-6891.
FOR SALE:  5 foot wide solid oak swing. Hand made. New, black paint. Comes with all the equipment necessary (metal frame & chains) to set it up on your property. Asking $250. In Atlantic. Call 712-789-1089.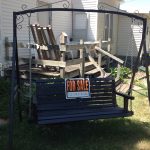 FOR SALE:  One full and one twin sz air mattress, similar to picture, NEW condition, $20 for both.  712-789-0479  Griswold. SOLD!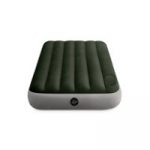 FOR SALE: Tackle box with 3 compartments that is full of bass lures. 50-75 lures. Asking $150. Call 402-506-0787. Located in Lewis.
NEEDED:  A loving home for a 3 – month old  kitten. He is black with a white spot under his chin. He is very playful and a purring machine. He has had his first visit to the vet for vaccinations. He uses a litter box. Call or text 712-254-2254.