WEEK OF JUNE 8, 2020
June 8th, 2020 by Jim Field
FOR SALE: Small Female Quarter Horse. Well behaved and rides great. Great with kids. Grandkids outgrew her and she needs a new home. Saddle, bridle, halter, lead rope etc all included. $150. Call 712-249-4625.  SOLD!
FOR SALE: Set of welding hose and smith gauges. $80. 712-323-4890.
WANTED: Canning jars and FOR SALE: applewood. 712-420-3016.
FOR SALE:  Twin size Bed, frame and headboard.  Less than a year old. Like New!  Can deliver in Atlantic. $100  712-250-0266.
WANTED:  8 ft. wide 7 ft tall overhead garage door.   712-249-6880.
FOR SALE: 1) 1987 IT 425 Yamaha Dirt Bike. New knobby tires. Has been restored and overhauled. There is a small crack in the plastic tank near the gas cap from a fall but sealed up. $1,500 cash, no trades. 2) 7 packages of 18-count worms for $1 each. Call 402-506-0787.
WANTED: Looking for a gun cabinet or safe that would hold 6-8 long guns. Call John at 712-249-7867.
GARAGE SALE:  804 E Mahogany in Atlantic. Friday, June 12th from 8:00 a.m. – 5:00 p.m and Saturday, June 13th from 8:00 a.m. – 12:00 p.m. Books, toys, clothes, plants, and lots of micellaneous.
FOR SALE: Cub Cadet 40″ mower deck for models 109-129. 3 blades & 2 new spindles, deck is in good condition. Asking $75.00 , cash only. If interested call 712-784-3894 or 712-249-7622. (No text please).
FOUND: Orange and white tiger striped cat found on Sunnyside Lane in Atlantic on June 9th. White paws and very friendly. No collar. Call 712-250-1438.
TO GIVEWAY: Firewood. 712-323-4890.
FOR SALE:  Gallon jar full of old match books.  $10 for all.  712-250-0266.
FOR SALE:  2 lawn chaises , 3 fold long ones. $4 each or $7 for both. Cash only. Very nice and comfy, but they need to be rinsed off from being in garage. Call 243-2344 ask for John. SOLD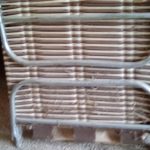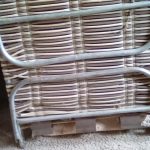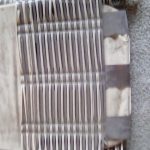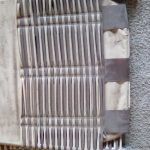 FOR SALE: The top one is a handmade cedar tree slice table/plant stand I'm asking $50 for. The larger bottom one is a handmade wood end table I'm asking $75.
FOR SALE: Small propane bottles. 4 of them about 20lb size. In good shape and have just been filled. $40-$50 depending on which you get. Call 712-254-3473.
FREE:  Desk, Real good shape, the best price FREE.  Call 712-249-0077.  GONE!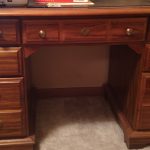 FOR SALE:  Matching Couch & Love Seat, Used good shape, $150.00 OBO.   Call 712-249-0077.
FOR SALE:  2 air paint sprayers, work well, $25 each.  2 heavy duty 1/2″ air impact wrenches that work well for $45 each, heavy duty load binder, works fine $50, Ryobi weed eater, works fine $25.  Call 712-304-4998 in Hamlin.
WANTED:  Mowing jobs, smaller yards, just has a push mower and weed eater, $10-$20 a yard. 712-243-2860.
FOR SALE:  fresh chicken  712-579-1981.