Red Oak P-D set-up online buy/sell/trade/family-custody transaction site
May 23rd, 2020 by Ric Hanson
Persons who conduct online buy-sell-trade transactions, or who have family or child custody matters, now have a safe place to do their in-person business in Montgomery County. Police in Red Oak have set-up a location for specific public business outside the Montgomery County Law Enforcement Center.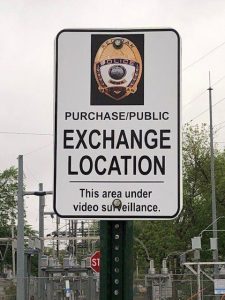 The Purchase/Public Exchange location has been formally recognized, and is located in the 400 block of North 1st Street. Parking spaces for the spot will be on the west side of the street. Police say this location should be used by those individuals who are purchasing, selling or trading items online, and are meeting an unknown person for their transaction, or meeting for family or child custody exchanges.
The location chosen has 24-hour video surveillance, but not 24-hour monitoring. Questions may be directed to Police Chief Justin Rhamy at 712-623-6500.