WEEK OF APRIL 13th
April 13th, 2020 by Jim Field
FOR SALE: Wrought iron DVD rack. Holds 50-60 DVD's. 4′ tall. $10. Call 712-506-0787 in Lewis.
FOR SALE:  Handmade walnut end table with a spiral metal base. Asking $75 o.b.o.  Call 712-249-9242.
FOR SALE:  Dixie Chopper 25 HP mower.  It is set up for a 60″ mower deck (not included).  The hydraulics work fine.  Asking $800.  Also, 4 Pella Window brand full commercial size sliding glass doors. Brand new in the packing crate, different colors and styles. 8′ wide so they accommodate any size wheelchair for accessibility, a little wider than traditional. $300 each. Call 712-304-2587 in Exira.
FOUND:  A beautiful, tame, black and white cat showed up this morning ;looking for the owner.  My number is 712-249-5047.
FOR SALE:  A small Weber gas grill in good shape.  Will include two small Coleman gas bottles.  Asking $20.  Call 712-243-2860. SOLD
FOR SALE:  Drill Doctor drill bit sharpener like new $75; 712-304-4998 (Hamlin)
FOR SALE:  Lazy Boy reclining love seat. Asking $100.00. Phone or text 712-249-2905.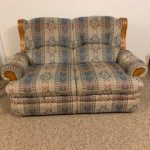 WANTED:  A tailgate for a 1991 Ford F-150 1/2 ton 4WD, any color, no dents.  Call 712-243-2860.  FOUND!
WANTED:  Canning Jars.  Also, looking for a 1994 Ford F-150 4WD pick-up for parts.  Call 712-420-3016.
FOR SALE: 1) 2 sets of golf clubs. One set is Northwestern brand the other is Delta, both are right-handed and include woods and irons. $50 each set. 2) 2 pair of brand new golf shoes. 1 pair are size 13M Footjoy. 1 pair size 12/13 Wilson white. $10 each pair. 3) 1991 Ford Lariat 1/2 ton 4WD,  brown metallic with new tires, brakes, belts, hoses, starter/alternator, thermostat, new head muffler and tail pipe. Asking $2500. Call 712-243-2860.
FOR SALE: 1) Dearborn tandem disc, 3 point and 6′ wide. $725. 2) 3-ton chain hoist, $100. 3) 2 corrugated metal tubes. One is about 20′ and the other is about 15′-20′. 36″ diameter. Best Offer. Would be willing to talk price and possible trade on all items. Call 712-249-0233.
WANTED:  Would like to buy a used weight bench with bar and weights. Please Call 712-250-0266.
FOR SALE: Little red campfire, 65,000 btu. $40; Black & Decker 10″, 3,000 rpm, waxer/polisher $25; Coleman 413 G Olympian $50. All prices negotiable. 712-250-0066.
WANTED:  We are still looking for a good used car not too expensive. Ph. 712-254-6845.