WEEK OF MARCH 23, 2020
March 23rd, 2020 by Jim Field
FOR SALE:  1) All power 3500 watt 6.4 HP overhead valve engine generator, $275. 2) Husqvarna 23/48 lawn tractor, $700. Call 712-249-8225.
FOUND: Does this pretty white calico cat belong to you? She has a collar with a bell on it. We are 3 miles north of Atlantic.  If so please call 249-9275. CLAIMED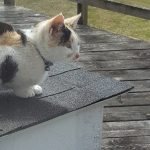 FOR SALE:  Four antique pie plates (apple, cherry, strawberry, blueberry designs), asking $25 each.  Call 712-323-4890.
FOR RENT:  1 Level-2 Bedroom-1 Bath Condo @ 1529 E. 18th St. #15 Atlantic, IA. View/Close access out back door to 22nd St. walking trail. Prefer older single or older couple. No smoking. No Pets. Call Steve @ 712-370-3936 or email sdolch@myfmtc.com for particulars.
FOR RENT:  2 Level older Ranch styled home in country SE of Emerson, IA. Separated garage. No smoking. No indoor pets. Would talk rent fee. Call Steve @ 712-370-3936 or email sdolch@myfmtc.com.
WANTED: Looking for empty cattle lick tubs to use as planters. Looking for about 12 of the heavy duty rubber ones, not the plastic ones. Call 712-249-4426.  FOUND!

FOR SALE: 1) 2 sets of golf clubs. One set is Northwestern brand the other is Delta, both are right-handed and include woods and irons. $50 each set. 2) 2 pair of brand new golf shoes. 1 pair are size 13M Footjoy. 1 pair size 12/13 Wilson white. $10 each pair. Call 712-243-2860.
WANTED:  a good used electric dryer.  Call 712-621-1245.
WANTED: A used, leather lift chair. Call 712-784-3429 (In Walnut).
FOR SALE:  This is a home made basswood end table, nice for home decor plant stands etc. Asking $75.  712-249-9242.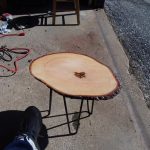 FOR SALE:   1997 Ford F-150 Pickup, teal green, Xcab, 4×4, short box, 5.4 L engine, 118,500 mi, 4 new tires in last 2 years, original owner.   Asking $3,000.  Call: 712-579-1633 Harlan.  SOLD!
FOR SALE:  Uniden Bearcat handheld Digital Police Scanner. Includes original box, Instruction manual and battery charger.  Currently programed with all of Cass County Emergency Frequencies. $50 712-250-0266.