Atlantic bounces back with big road win at St. Albert
February 14th, 2020 by Chris Parks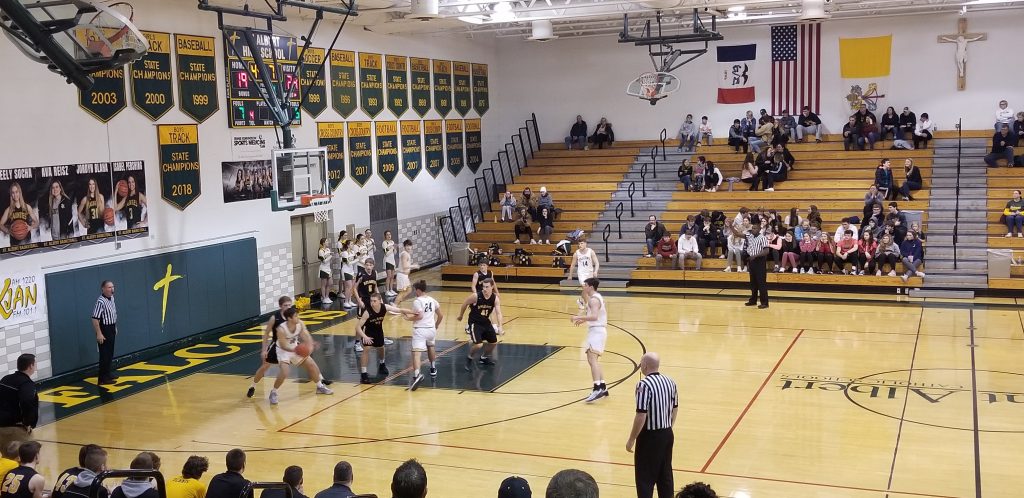 After a rough two games to start the week, the Atlantic boys basketball team needed a good outing to lift them up. They got that on Friday night with a 69-49 road win over St. Albert. Atlantic forced the Falcons in to settling for a large number of outside shots and did a great job rebounding misses to limit chances. The Trojans did a terrific job of sharing the basketball on offense and made a number of great late passes to turn a good look into a great look.
Skyler Handlos dropped in 20 points to lead the scoring for the Trojans with two others getting into double figures. Dayton Templeton finished with 14 and Nile Petersen added 13.
The Trojans improved to 8-11 on the season and have two regular season games left before the playoffs start on the 24th. The Trojans found out on Friday that their first round substate game will be played against the Harlan Cyclones at Glenwood in a 6:30 p.m. game.
St. Albert falls to 7-14 on the season and are finished with their regular season schedule. They open up their Class 1A playoff run next Thursday at home against Riverside.
Hear from Atlantic Head Coach Jeff Ebling tomorrow morning on our Saturday Morning Coaches Show at 8:30 a.m.