WEEK OF NOVEMBER 11th
November 11th, 2019 by Jim Field
WANTED: Looking to buy a 1974 Atlantic Javelin yearbook in good condition. Call 712-769-2557.
FOR SALE: Nishna Valley Shriners still have homemade mincemeat for sale in pints and quarts. Call 712-243-1979 or 712-249-3248.
FOR SALE: L shaped fuel tank, 150 gallons, pump and everything with it. $250. 712-323-4890.
WANTED:  we have an urgent need for used stairway lifts.  If you have any or know of someone who might have a few different lengths, please call 712-250-8699.
FOR SALE: 4 light pickup tires – 265/70/R17, mounted on 6 bolt Ford aluminum rims, 1/2 tread or better. $100 each obo; Strikemaster ice auger, 8″, gas, only used about 2 years. $200 obo. 712-249-1025.
FREE TO GOOD HOME: 4 younger cats (born in Spring), would make great indoor or outdoor cats. There are 2 calico, 1 black and white and 1 grey and white. 712-249-3973.
WANTED: A 110 clothes dryer (apartment sized). Call or text 712-404-0656.
FOR SALE: 1) 8-drawer filing cabinet with full suspension drawers, $50. 2) GE electric dryer, $40. 3) Kitchen table w/ 4 chairs, $25. Call 712-243-5447.
FOR SALE: 1994 Cadillac Sedan DeVille. 130,000 original miles. Well maintained (with records). Asking $1,800. Call Janice at 712-268-9727.
FOR SALE:  Three plastic red containers with lids. And they do have the rubber rings around the lids to seal your stuff a lot better unlike most things that don't. Nonsmoker and are very clean. Asking $5.00 for the three. Phone # is 712-249-7699.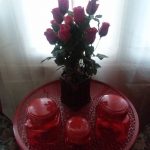 FOR SALE:  Hoover Wind Tunnel bagless vacuum cleaner, asking $20.00 and lightweight wheelchair, asking $40.00.  Call 712-249-3173.
FOR SALE: 28 ton John Deere log splitter. $500. 712-323-4890.
FOR SALE:  1995 Buick Regal, has had tune up in last year, newer tires with less than 1,000 miles, new battery, asking $500.  Call 712-563-3952. SOLD!

FOR SALE:  Whirlpool chest freezer, 21.7 cubic feet, in great condition, asking $200.  Call 712-243-5402.
FOR SALE:  Rival 0.9 cu ft digital microwave oven. Black in color. $15. Call 712-254-3518.
FOR SALE:  1998 Dodge Durango, split leather seats, 3rd row, 4×4, 5.2 engine with 134,000 miles, good tires, new wipers and newer battery.  Runs and drives.  $1,000.00.  In Anita, 515-480-2068.
FOR SALE:  1999 Cadillac SLS, 198,000 miles, $500.00.  Call or text 712-304-0880.