WEEK OF OCTOBER 7, 2019
October 7th, 2019 by Jim Field
FOR SALE:  10" McCulloch miter saw. New blade. $65. Call 712-249-2847.
HUGE GARAGE SALE:  1? miles North of the 5X80 Country Club on HWY 25, 3455 Hwy 25 Casey Ia 50048.  Friday October 11th 3 p.m.-6p.m, Saturday October 12th 8 a.m-3p.m, Sunday October 13th 10a.m.-2p.m.  Lots of New Avon, Some Antiques, Indoor & Outdoor Holiday Decorations, New in Box 7ft Prelit Christmas Tree, Round Table with 4 Chairs, Lots of Cookbooks/Books, New Toaster/Convection Oven in Box, New Griddle in Box, Large Boxes of NEW Bows, Boxes and Wrapping Paper, Miss Me & Rock Jeans Sizes 24 25 26  & 27, Name Brand Clothes, Shoes, Purses and Belts, Jackets,Winter Coats, Vests & Gloves, Women's Sizes 4-16, Men's Sizes M-XXL, Lots of Misc. Items!  Rain or Shine come visit us in the Morton Building
FOR SALE:  A heavy duty park bench, made of cast iron and wood.  It's about 4'2″ in length and is very heavy.  Asking $40.  Call 712-250-1358.
FOR SALE: 1988 Yamaha TW200 Fatboy Motorcycle. $700. Call 402-506-0787. SOLD

FOR SALE: 1) Bass Pro Fry Kit $25, 2) White River lost lake float tube, for floating or fishing, $60. 3) Creek Company float tube fins, $25. Call 712-250-0066.
FOR SALE:  Uniden Bearcat Trunk Tracker IV handheld Digital Police Scanner. Like New. Includes original Box, Instruction manual and battery charger. $125 712-250-0266.
FOR SALE:  2 drivers and blue canner, $10.00 each.  712-250-0931.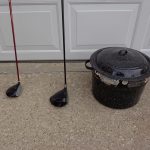 FOR SALE: 1) Trailer made out of a straight truck frame, heavy duty, flatbed, $40. 2) Pair of 3-point hay-rakes, $100 each. 3) 4 tractor weights, $40 for all 4 or $20 for a pair. Call 402-506-0787.
FOR SALE: set of 4 205/44/R16 car tires, includes new spare, like new. $150. 712-420-9245.
FOR SALE: pickup loads of firewood. Split and stacked. 712-420-3016.
FREE: Lots of black walnuts to give away. Located in Exira. Call 712-269-9384.
FOR SALE:  set of 4 car dollies in good condition, used maybe 3 months.  Asking $85 for the set.  Located in the Kimballton area.  Call 417-876-7103.  SOLD!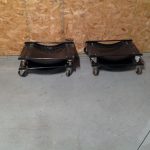 FOR SALE: 2 barber chairs, real good working order. $300 each or $500 for both. 712-323-4890 (outside of Council Bluffs)
FREE: Pioneer stereo system with turntable, cassette and cd player, and 2 Bose speakers. 254-3300.
FOR SALE:  Snow Blower, fits Cub Cadet model's 1861-1864, excellent condition, 2 stage, wide frame, crank handle & rod included. Asking $575.00. SOLD!  Also have a 40″ mower deck for a Cub Cadet mower, will fit models 109-129, 3 blades, 2 new spindles, it is in good condition. Asking $100.00. Call 712-784-3894 or 712-249-7622 in Walnut.  No text please, Cash only.