TUESDAY, SEPTEMBER 24th
September 24th, 2019 by Jim Field
FOR SALE:  New Justin sq toe boots, teal tops, black toe sz 6 1/2 B worn once. Paid $125, asking $90; similar to these.  789-0479   Available.   Nice looking boot.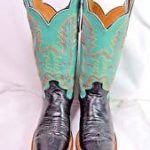 FOR SALE:  Barn coat, jean jacket, size small, $10.  Demi Miche shells, NEW, $12, black/white bag NEW, $10, shirts size small $5-10, NEW condition.  712-789-0479.
FOR SALE:  Shirts and tunics, NEW, Cruel, Wrangler, etc, $10.  NEW-never worn CRUEL jeans, size 27.  $20.  NEW 2-piece swimsuit, still with tags, Top size small, shorts size medium $30.  Call 712-789-0479.