TUESDAY, AUGUST 6th
August 6th, 2019 by Jim Field
FOR SALE:  Motorcycle jack—$75.  Holly 600cfm carburetor and Holly Street Dominater intake manifold, for a 350 small block Chevrolet, $125 for the carburetor and $175 for the manifold.  Stock exhaust pipes for a 1998 Honda Aero Shadow 1100 cc motorcycle—$75.  Call 712-249-1000.
FOR SALE: Snapper hi-vac push mower with bagger, Briggs & Stratton motor, $25.00 or best offer.  (712) 249-5290.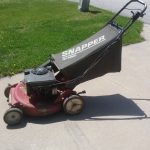 WANTED: Splicer 5 speed rear end transmission for John Deere STX38 riding mower. 712-254-0414.
FOR SALE:  Good used Craftsman garage door opener, 1/2 horsepower, chain-driven, all hardware included.  Asking $100.  Call 243-4308.
FOR SALE:  a 3-in-1 Harley-Davidson motorcycle helmet, size is medium, $125.  Also, several back-to-school items including backpacks, gym bags and drawstring bags.  Asking $2 or less for each.  Call 712-249-7733.
FREE: An electric lift chair free if you come pick it up. Works and is in good shape. Call 712-243-3806 in Atlantic.