MONDAY, JUNE 24th
June 24th, 2019 by Jim Field
FOR SALE:  Craftsman 10″ table saw on rollers, 1 hp motor.cast iron top and extension. Shop Fox guide.  $325.00.  Call 712-250-0932 in Atlantic.
FOR SALE:  Used Maytag Neptune Front load Washer and Dryer.  Excellent condition .  $200 for the set.  Call  (712)563-2030.  SOLD!
FREE:  Giveaway to needy person, Two near new 'Nebulizers', to help those with breathing difficulty. With hoses and hand held units. Works great!  No longer needed, wife died…712-243-2300.
FOR SALE:  Craftsman Radial Arm Saw. Works great. $200.00.  Call 712-249-5206.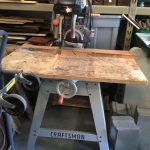 WANTED: 2 US aluminum mag wheels 14″, slotted wheel design, non-polished. Dave – 402-639-3112 (Shelby).
FOR SALE:  three very nice iron beds and springs.  One full size and two twin size.  Also, free National Geographic magazines from 1967-1995.  In Audubon.  Call 402-429-7475 or 402-416-8200.
FOR SALE:  Red cherries, $3.00/quart.  Call 249-1453.