SW IA Squadron of Heroes receives 2 local grants
May 15th, 2019 by Ric Hanson
The Southwest Iowa Squadron of Heroes has announced they have been awarded two local grants.  Grant applications were submitted to Southwest Iowa REC and to the E.F. & Sylvia Schildberg Foundation.  The Squadron appreciates the support that has been given by so many to make this all possible.
Organizers say "We are one step closer to getting the Hero Bus on the road.  Stay tuned for several exciting announcements in the next few weeks."
Southwest Iowa Squadron of Heroes was formed to promote a positive message and outreach to those in the age bracket of 1-101. Their Mission Statement is to "Affect a positive influence in one person's life (hopefully a young person), and the efforts/cost/time will all be worthwhile. We may never know the result or the particular person we had a positive contact with and that part of the equation does not matter."
Their current superheroes include: Wonder Woman (Sydney Rhamy), Batman (Justin Rhamy), Optimus Prime (Luke Mellott), Captain America (Will Brown), and Thor (Justin Mann).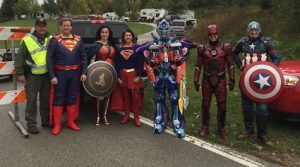 Other committee members include Brad Baker, Karl Bormann, and Kattie Lewis.
For more information and upcoming events, see the Southwest Iowa Squadron of Heroes Facebook page.