FRIDAY, APRIL 26th
April 26th, 2019 by Jim Field
FOR SALE:  a metal 4-step safety ladder with grips and side rails.  Red kitchen step stool like the ones made in the 1960's with seat on top and left out steps, new.  Red stand mixer with 2 glass bowls and beaters and a dust cover, never used.  Call 641-743-2837.
FOR SALE: Medium size Dog Kennel 24″ x 18″ X 20″ tall, asking $25.  Call 712-250-0266.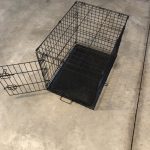 FOR SALE:  TWO – Brand New(still in box) 12 Volt hand held vehicle vacuums. Price is $10.00 Each. Phone: 712-249-7187.