Wabash Trace Nature Trail photo Wins Iowa Travel Guide Cover Contest
November 4th, 2015 by Ric Hanson
After seven days of competition, fans of the Iowa Tourism Office voted to feature the Wabash Trace Nature Trail in southwest Iowa on the cover of the next Iowa Travel Guide. (View the winning cover (https://t.e2ma.net/click/2higfb/awy8dg/q8y5ak). Iowa Tourism Office Manager Shawna Lode said "Each of the four images up for consideration highlighted a spectacular place in Iowa. We're excited to feature this colorful image of the Wabash Trace Nature Trail to showcase the many great recreational opportunities across Iowa and draw travelers into the 176 pages of travel ideas within the Iowa Travel Guide."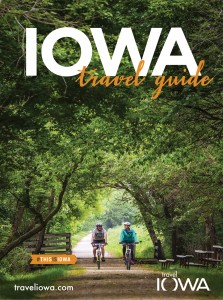 You can pre-order the new Iowa Travel Guide at traveliowa.com/preorder (https://t.e2ma.net/click/2higfb/awy8dg/60z5ak). Inside the new guide, expect to see great content highlighting Iowa bike trails, unique Iowa souvenirs, and historic hotels, in addition to thousands of listings for attractions, hotels, bed and breakfasts, cabins and campgrounds/RV parks. The guide will be available in early 2016.
The Iowa Travel Guide Cover Contest began last Wednesday and concluded this morning at 10 a.m. In total, 4,035 votes were cast with the Wabash Trace Nature Trail image receiving 1,830 votes. Other images under consideration depicted a scenic overlook of Effigy Mounds National Monument near Harpers Ferry, Roseman Covered Bridge in Madison County and hikers in the Loess Hills.
The Iowa Tourism Office is part of the Iowa Economic Development Authority. For more information about Iowa tourism, visit traveliowa.com (https://t.e2ma.net/click/2higfb/awy8dg/mt05ak), call 800.345.IOWA or stop at any Iowa Welcome Center.